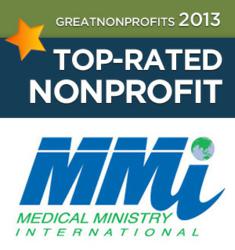 This recognition is especially significant as it came from those that have seen our work first hand and wanted to tell others.
- Sam Smith, MMI CEO
Allen, TX (PRWEB) May 21, 2013
Medical Ministry International announced today that it has been honored with the prestigious 2013 Top-Rated Award by GreatNonprofits, the leading provider of user reviews about nonprofit organizations.
"We are excited to be named a Top-Rated 2013 Nonprofit," says Samuel Smith, MMI CEO. This does not happen without the dedication of our over 3000 Volunteers and Staff serving in 22 countries around the world. This recognition is especially significant as it came from those that have seen our work first hand and wanted to tell others."
The Top-Rated Nonprofit award was based on the large number of positive reviews that Medical Ministry International received – reviews written by volunteers, donors and clients. People who have posted their personal experience with the nonprofit. For example, one person wrote, "MMI is a great organization that serves the poor all over the world. I have donated to this organization because of the way in which they manage their resources. They are not extravagant or wasteful but use their donations for the intended purpose. Highly recommended."
While the Top-Rated Awards run through the end of October, Medical Ministry International was part of the inaugural group to qualify for the year. MMI was also recently recognized as a 4-Star Charity by Charity Navigator which is the highest ranking possible and signifies that MMI outperforms most charities in North America in its execution of services throughout the world.
"Savvy donors want to see the impact of their donations more than ever," said Perla Ni, CEO of GreatNonprofits.org, "People with direct experience with Medical Ministry International have voted that the organization is making a real difference." Being on the Top-Rated list gives donors and volunteers more confidence that this is a credible organization. The reviews by volunteers, clients, and donors provide a view of the on-the-ground results of this nonprofit. This award is a form of recognition for the organization by those that have seen their work first hand.
About Medical Ministry International
Founded in 1969, Medical Ministry International works in over 22 countries around the world and provided direct services last year estimated at over US$82 Million to more than 542,000 people. MMI utilizes both Medical and Non-medical volunteers and staff in each country it serves with Health Centers, Residency Training Programs, and Project Teams.
http://www.mmint.org
About GreatNonprofits
GreatNonprofits is the leading site for donors and volunteers to find reviews and ratings of nonprofits. Reviews on the site influence 30 million donation decisions a year. http://www.greatnonprofits.org
Media Contact
Rachel Euhus - r.euhus(at)mmint(dot)org - 972.727.5864 Ext.23