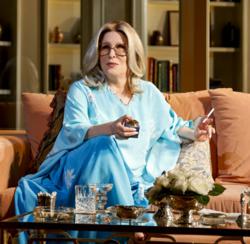 Denver, CO (PRWEB) May 22, 2013
I'll Eat You Last: A Chat with Sue Mengers opened last month for a limited bite at the Booth Theatre on Broadway, ending June 30, 2013.
The solo play has been performing to over 100 percent capacity at the storied 783-seat theatre, based on data compiled by entertainment-link.com. For the week ending May 19, capacity was 102.2 percent, up from 100.9 percent for the week before.
The production stars Grammy and Tony Award-winning megastar Bette Midler as super showbiz agent Sue Mengers (1932-2011). Born into near poverty and a refugee of Hitler's Germany, Mengers worked her way up rung by rung with nerve, verve, charm and her legendary wit.
At a time when female reps were unheard of, she became the most powerful agent in Hollywood, representing the biggest names in the business: Barbra Streisand, Faye Dunaway, Burt Reynolds, Ali McGraw, Gene Hackman, Cher, Candice Bergen, Ryan O'Neal, Nick Nolte, Mike Nichols, Gore Vidal, and Bob Fosse.
For more than 20 years, her dinner parties were the talk of the town; and now you're invited into her glam Beverly Hills home for a feast: juicy insider gossip and spicy little secrets, as only Sue can dish out. You get to sit back and be regaled by a woman, who at the height of her 1970's reign, could make an aspiring star's career simply by issuing an invitation to one of her A-list-only dinners.
"Search traffic for tickets to see I'll Eat You Last has been trending extremely high. This can be attributed to the play's very limited engagement, A-list writer-director-star combination and positive critical reviews," said Felina Martinez at online ticket marketplace BuyAnySeat.com.
"As many of the performances begin to sell out closer to show time, we're proud to be able to offer theatre-goers the most complete and continuously refreshed selection of theatre tickets available, with a worry-free guarantee to protect their purchase," said Martinez.
"To access the total inventory of cheap I'll Eat You Last tickets we now have available, customers can go to BuyAnySeat.com and search for I'll Eat You Last – then select their tickets," said Martinez.
The show is written by Tony Award winner and three-time Academy Award nominee John Logan, and directed by two-time Tony Award-winner Joe Mantello. Bette Midler, the solo star of the 90-minute play, is a Grammy and Tony Award-winner herself. She first appeared on Broadway in 1967, playing the oldest daughter in the original production of "Fiddler on the Roof."
After establishing her recording career, Midler returned to Broadway for concert engagements in 1973, 1975, and 1980. She received a special Tony Award in 1974 for "adding lustre to the Broadway season." This is her first appearance on Broadway in over 30 years.
The show opens with Sue gushing gossipy tales while she awaits a phone call from her best friend Barbra Streisand. Barbra was the biggest jewel in Sue's crown — until just a few moments ago. The story of the Streisand defection plays out, but not until Sue has dished out a surfeit of scandalous showbiz secrets.
We learn how Sue fixed the female lead in the movie Chinatown for client Faye Dunaway. How Steve McQueen stole Ali MacGraw from Paramount paramour Bob Evans, torpedoing her career. These are among the salacious tidbits dished out in this racy yet reflective peek behind the scenes of tinsel town's power elite.
In one of many positive reviews, New York Times theatre critic Charles Isherwood, in his review entitled "A Schmoozy Cobra, About to be Bitten" published on April 24, 2013, wrote: " (Ms. Midler) … shares certain qualities associated with her subject: an ability to make the crassest vulgarities sound like crystalline repartee, an earthy glamour and a preening, kittenish imperiousness that's somehow warmly endearing."
To shop for cheap I'll Eat You Last tickets, visit BuyAnySeat.com.
About BuyAnySeat.com: An online ticket marketplace, BuyAnySeat.com connects sports, theater and other live entertainment fans to an extensive network of ticket sellers worldwide. The site's simplified listings and navigational tools enable shoppers to easily locate, compare and purchase inexpensive, discounted or lower-priced tickets to virtually all advertised sports and entertainment events around the globe.
The site, which is PCI-compliant and Norton Secured, also provides customers with a complete Worry-Free Guarantee on all ticket purchases. Based in Denver, Colorado, BuyAnySeat.com is a subsidiary of Denver Media Holdings. For more information, please visit http://buyanyseat.com.