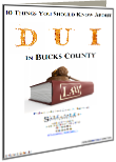 ARD offers first-time Bucks County DUI offenders a second chance and help to get
their lives back on track. Hire a local DUI lawyer to maximize your chance at getting
accepted.

Bensalem, Pennsylvania (PRWEB) May 24, 2013
A first-time DUI offense can feel like a huge weight on a DUI suspect's shoulders and the Bucks County District Attorney's Office is known for being strict on drunk driving (DUI) charges. Some think they are eligible for the "first offender's program," known as Accelerated Rehabilitative Disposition (ARD), but then find out just before trial that they are not. It is important to discuss a drinking and driving case with an experienced Bucks County DUI lawyer to determine eligibility for the ARD Program.
If accepted, successful completion of the ARD program offers many advantages to first-time DUI offenders. Some of these benefits include:

No jail time
No conviction record
Reduced license suspension
Reduced fines and costs
Eligible for expungement
ARD suspends the charges against the first-time offender, but requires certain court-ordered conditions to be followed. These may include:
Drug and alcohol evaluations and counseling
Community service
Restitution
After successfully completing the ARD program, the original criminal charges are dismissed and the charges can be expunged.
Due recent procedural changes set forth by the Bucks County District Attorney, a DUI suspect must waive his or her Preliminary Hearing and apply for the Accelerated Rehabilitative Disposition (ARD) Program by submitting a completed application form to the court. In about a month or two after the Preliminary Hearing a DUI suspect will be advised by the District Attorney's Office as to whether the suspect is preliminarily accepted into the ARD Program. There is also a new requirement that a DUI suspect must complete 10 hours of community service as part of his or her ARD responsibilities.
The law firm of Saile & Saile LLP can help determine whether a DUI suspect will be eligible for the Bucks County Accelerated Rehabilitative Disposition (ARD) program. Pennsylvania criminal and DUI-drunk driving law permits each county to establish its own ARD program. This means that a suspect may be eligible in one county in Pennsylvania, but not another. It takes an experienced and local Bucks County DUI lawyer, such as Michael L. Saile, Jr., to give an informed opinion as to one's chances of getting into the first offender's program as there are many unwritten rules and guidelines.
To learn more about Bucks County DUI lawyer, Michael L. Saile, Jr. and Saile & Saile LLP, please visit his websites or call 215-860-5800. To find out more information about DUI in Bucks County, Pennsylvania, download Mr. Saile's Bucks County DUI Guide.