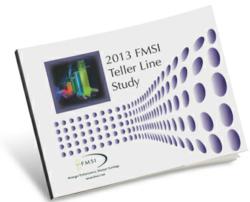 Alpharetta, GA (PRWEB) May 22, 2013
FMSI today released its annual Teller Line Study. As recently mentioned in a Wall Street Journal article, the FMSI Teller Line Study is based on a compilation of transaction and labor cost statistics, built from more than 20 years of proprietary data, from financial institutions all across the country. This year's study indicates that branch transaction volumes are continuing the year-over-year decline FMSI identified more than a decade ago. Per the study, branch transaction volumes have declined more than 45% since 1992.
"We are in a unique position in that we have access to more than 17 million monthly transactions from many different financial institutions," said W. Michael Scott, President/CEO of FMSI. "Our Teller Line Study compiles this valuable information and presents it in 20-year trend charts, allowing the analysis of industry branch traffic at an aggregate level."
For more than 20 years, FMSI has conducted the detailed annual study of teller activity volumes using the month of March as a benchmark. The study includes real data pulled monthly from HR systems and community bank and credit union core systems. The resulting trend charts provide information about transaction volumes, pay rates and labor costs per transaction and enable financial institutions and others to:

See eye-popping industry metrics about the teller line.
Study the trends of branch traffic in the retail banking environment.
Learn about different strategic staffing approaches from industry experts.
"We are the only ones in the industry that have access to this type of aggregate information," added Scott. "The detailed study reveals a declining branch transaction trend, of which senior management at financial institutions should take note. With transactions dropping and staffing levels remaining the same, the inevitable outcome is costly overstaffing in the branch environment."
Copies of the FMSI Teller Line Study are available to the media upon request, and the data contained in the study may be used freely in articles provided credit is given for its source.
About Financial Management Solutions, Inc. (FMSI)
Located in suburban Atlanta, GA and established in 1990, FMSI provides easy-to-use yet sophisticated business intelligence systems—The Teller Management System™ (TMS), The ContactCenter Management System™ (CMS), and the Lobby Tracking System™ (LTS)—that allow financial institutions to manage and staff to meet their service and sales needs. As the industry experts, FMSI gives banks the ability to schedule their team throughout the branch network and to manage staff through easy-to-read color graphics and succinct management reports. FMSI provides performance management information exclusively to financial institutions of all sizes. Visit the company's website at http://www.fmsi.com or call 877.887.3022 to schedule a complimentary online demonstration of any of FMSI's products.