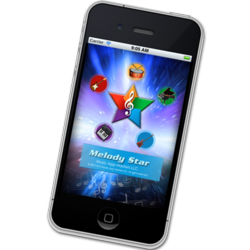 Melody Star iPhone app lets users relax and enjoy as they sharpen their musical intelligence.
Washington, D.C., May 21, 2013 (PRWEB) May 22, 2013
Music App Masters LLC will release Melody Star, a free music app for iPhone and iPad, on Friday, May 24. Company president Jeffrey Chappell says that the purpose of Melody Star is to enable users of all ages and skill levels to cultivate their musical abilities.
Users of Melody Star can activate five different recorded sound patterns each on five different instruments, allowing literally hundreds of combinations. The patterns all have the same key, tempo, phrase length, and beat count, and they automatically synchronize with each other. When the users predict how combinations will work together and then test them out, it sharpens their skill for listening and for finding patterns and connections. It also trains their sense of rhythm and phrasing, and increases their ability to recognize different instruments and to learn how to hear them working together.
"Melody Star is easy to understand and to use," says Chappell. "The activity provides relaxation and enjoyment at the same time that it actually trains the musical abilities of the user and elevates their musical intelligence. Melody Star provides an outlet to express the user's musical talent in a simple, direct package, and the instant results bring gratification and fulfillment."
"I think that every person is musical and possesses their own natural way of relating to music. Now it is possible to bring that musicality into action through app technology," he continues. "Melody Star can help you to explore your own musical landscape."
Music App Masters LLC was founded in 2012 by business partners Jeffrey Chappell and John Kelly Hughes. The company's mission is to fill the need for the highest quality apps for professional and learning musicians.
Jeffrey Chappell brings a tremendous diversity of experience to the music app industry. He is a concert pianist, jazz musician, college professor, recording artist, composer, seminar leader, author, and music journalist. He is Director of Jazz Studies at Goucher College in Baltimore and teaches on the faculty of the Levine School of Music in Washington, D.C.
John Kelly Hughes is a lifelong explorer of technology and its power to elevate the quality of living. His resume covers broad and successful activity in several industries including music retail, real estate, career counseling, software sales and marketing, and web development.
Melody Star for iPhone and iPad is available in the App Store starting on May 24, 2013. E-mail subscribers will receive a coupon for a free Melody Star upgrade at http://www.appmastersllc.com/wrp1.
For more information, please contact: admin(at)appmastersllc(dot)com