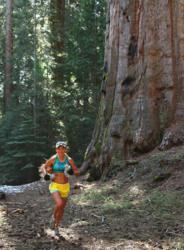 (PRWEB) May 21, 2013
A long-running trail race will once again take place just outside Yosemite National Park as the 24th Annual Shadow of the Giants 50K run is set for June 8.
Started by Baz Hawley 1990, an avid trail runner for decades, the race takes place just outside of the park and incorporates some amazing scenery.
"My 50K course takes you through Nelder Grove where the 3000 plus year old Giant Sequoias live, always a big attraction year round," said Hawley.
Hawley decided to combine his love of running and his love the area to create a race that would be an annual event for ultra-distance runners from California and beyond.
"I started the event when running my B&B in Fish Camp back in 1990, back then I was a 100 mile a week ultra-runner," he said.
"I trained in the mountains all the time and because I already was a race director in Southern California I decided to plan a 50K event."
He said that the proximity to Yosemite National Park as well as numerous other area attractions in the region has been a big draw that has brought thousands of runners to the area.
For those who don't feel up to tackling a 50K race, Hawley as an entire series taking place in the region that may be a bit easier.
"I started a shorter race series four years ago in the Sierras above Oakhurst as I wanted to attract Central Valley runners to the magic trails. This year the three-race series starts June 29 with a 14K race starting off Sierra Sky Ranch Road."
To learn more about the races, interested runners can visit http://www.bigbaztrailraces.com.