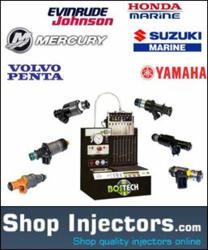 "We're proud to be able to provide our customers with these high-quality fuel injector products just in time for the season of marine activities," said a spokesperson for ShopInjectors.com
(PRWEB) May 21, 2013
ShopInjectors.com, the world's premier online retailer of new fuel injectors, OEM fuel injectors, and injector pumps, is pleased to announce the availability of a full line of marine fuel injectors.
The company is offering products from top names in the marine industry, including Evinrude Johnson, Mercury, Volvo Penta, Honda Marine, Suzuki Marine and Yamaha.
"We're proud to be able to provide our customers with these high-quality fuel injector products just in time for the season of marine activities," said a spokesperson for ShopInjectors.com. "We provide products that are going to allow boaters and water sports enthusiasts to ensure that their watercraft is well-cared for and can be enjoyed for years to come."
In order to educate consumers on the benefits of new marine fuel injectors, Shop Injectors urges boaters and watercraft owners to be aware of the damaging effects that the use of ethanol can have on outboard motors and fuel injectors. The main risks associated with ethanol are the absorption of water through fuel vents, dissolved components of the actual fuel system, and contamination of the fuel system as a result of ethanol's reaction with MTBE fuel blends. Beyond selling new marine fuel injectors, Shop Injectors also provides cleaning services and sells remanufactured fuel injectors in order to save their customers both time and money.
While fuel blends using as much as 10% ethanol are generally acceptable for use in newly produced engines, it's highly recommended that older engines be upgraded to accommodate new gas blends. The experts at ShopInjectors.com recommend the use of at least a 10 micron filter, along with the use of a spare set of filters, to avoid the potentially devastating effects of ethanol blends.
Shop Injectors OEM marine fuel injectors allow customers to enjoy the peace of mind of having an engine that is functioning at a peak level of performance. The company also offers a rebuild and return program for customers who are concerned about the damaging effects of ethanol-based fuels.
ShopInjectors.com prides itself on providing OEM fuel injectors within the marine industry that are incredibly cost-competitive and allow customers to restore their boat or other watercraft back to original OEM standards.
About Shopinjectors.com
Shopinjectors.com is an online retailer of fuel and diesel injectors. The site offers over 950 fuel injectors, fitted for everything from large rigs to compact cars. The site provides only the highest quality remanufactured OEM injectors from companies including Bosch, Delphi, Denso, Ford, Motorcraft and more. Each unit sold by the company is hand-built by a team of ASE certified technicians to ensure the very best in quality and performance. For more detail please visit, http://www.shopinjectors.com/.