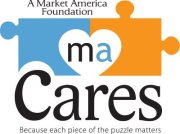 Greensboro, NC (PRWEB) May 22, 2013
Brandi Quinn, Vice President of Operations at Market America Inc./SHOP.COM, was named Boss of the Year at the North Carolina Junior Chamber's 2013 Distinguished Service Award Banquet on May 4 in Chapel Hill.
Nominated for her exceptional achievements in the workplace and contributions to the community, there couldn't be a more deserving recipient than Brandi.
Since she began her career at Market America Inc./SHOP.COM over 20 years ago, Brandi has been an integral part of the company. She has performed admirably in her role as a Vice President and has built strong relationships with her team. Her ability to establish great working relationships has resulted in employees who have longevity with the company and are empowered, self-sufficient, and willing to do what it takes to get the job done.
As stated by her direct-reports, some of Brandi's best qualities are her genuine care and concern for her employees, her honesty and fairness, her ability to consider opinions that differ from her own, the trust she places in her team, and her dedication to the company and its people.
"Brandi is a born leader who leads by example. She is one of the most detail oriented and tenacious leaders I have ever seen and she is always willing to roll up her sleeves to see a project through.
Brandi is respected by her team and is a tremendous asset to Market America / SHOP.COM," said Marc Ashley, Market America COO.
In addition to her career accomplishments, Brandi has made countless contributions to the community. When she first began with Market America, she organized groups to participate in heart walks, collected dog food and blankets for local animal shelters, and spear-headed countless other charitable efforts. Her biggest passions are helping soldiers/veterans, children and families in need as well as supporting animal shelters. Her efforts evolved into "ma Cares", a 501(c)(3) organization supported by a dedicated group of Market America employees who make a great impact year after year with organizations such as Patriot Rovers, Earlier.org, and Pathways Center.
In 2012, ma Cares donated school supplies, clothing, toys, and more to homeless children, helped 10 families to furnish their homes, helped place numerous animals in loving homes, donated over 4,000 packets of TorchTM Sports Nutrition Formula to troops overseas, and sponsored 9 service dogs from puppy to placement with a veteran. This couldn't have been accomplished without Brandi's dedication and contagious enthusiasm.
It is Brandi's selfless devotion and ability to turn her passion into action that makes her such an inspirational figure within Market America/SHOP.COM and the community.
For more information on Market America Inc./SHOP.COM and ma Cares, visit http://www.marketamerica.com/ or http://www.macares.org/.
ABOUT MARKET AMERICA, INC. & SHOP.COM
Market America, Inc. is a product brokerage and Internet marketing company that specializes in One-to-One Marketing. Its mission is to provide a robust business system for entrepreneurs, while providing consumers a better way to shop. Headquartered in Greensboro, NC, the company was founded in 1992 by President and CEO JR Ridinger and has generated $4.3 billion in accumulated sales. Market America employs nearly 700 people globally with operations in the United States, Canada, Taiwan, Hong Kong, Australia, United Kingdom and Mexico. Through the company's shopping website, SHOP.COM, consumers have access to over 40 million products, including Market America exclusive brands and thousands of top retail brands. By combining Market America's entrepreneurial business model with SHOP.COM's powerful comparative shopping engine, Cashback program, Hot Deals, social shopping integration and countless other features, the company has become the ultimate online shopping destination.
For more information, visit http://www.marketamerica.com or http://www.SHOP.COM
ABOUT MA CARES
ma Cares, a local non-profit 501(c)(3), exists to celebrate and improve the quality of life for children, families, veterans and animals. As the philanthropic arm of Market America, Inc. / SHOP.COM they have positively impacted the Piedmont Triad community since 1998. For more information, visit http://www.macares.org.
###