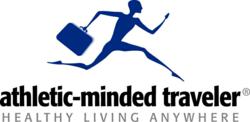 SAN DIEGO, CA (PRWEB) May 22, 2013
Athletic-Minded Traveler LLC, a San Diego-based active lifestyle media and publishing company released today its 2013 U.S. Business Hotel "Fit List". The 10 healthiest business hotels received the company's recommendation after ongoing research of over 3,500 hotels, traveler feedback, and anonymous personal tours by the editorial staff. Selection criteria included hotel gyms, multi-sport options (e.g., lap pool, sport court, etc.), in-room workout choices, healthy food offerings, cost, and overall ambiance/atmosphere.
"These hotels deserve special recognition for supporting and encouraging travelers' healthy and athletic-minded lifestyles," said Jim Kaese, Editor-in-Chief at Athletic-Minded Traveler LLC. "Our company has experienced tremendous growth and success because the travel industry is finally recognizing that millions of travelers care about following their healthy lifestyles while away from home."
A detailed listing with discussion of each property can be found on the AMT web portal. The ten healthiest business hotels in the U.S. are (alphabetical order):
Four Seasons Miami
Four Seasons San Francisco
Hilton Anatole Dallas
Houstonian
Hyatt at The Bellevue Philadelphia
Hyatt Regency La Jolla
Intercontinental Boston
JW Marriott Marquis Miami
Radisson Blu Aqua Chicago
Renaissance ClubSport Walnut Creek
About Athletic-Minded Traveler LLC
Athletic-Minded Traveler LLC is an active lifestyle media, publishing, and consulting company. The San Diego-based firm serves its clients and generates content via a staff of experts. Proprietary resources include a web portal, custom jog/walk maps, corporate wellness content licensing, and fitness/wellness/hospitality consulting. Inquiries are happily addressed at (619) 491-0132 and online at AthleticMindedTraveler or Twitter .
Media Contact:
Lauren Nirvesa
Sr. Editor & Media Relations
Athletic-Minded Traveler LLC
(619)491-0132