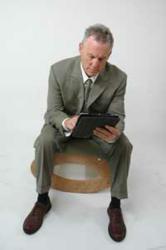 The Body Archer is simply, "Furniture Meets Fitness".
Los Angeles, CA (PRWEB) May 22, 2013
Interior Designers are always looking for new ways to change the mundane into new creative living spaces. One of the latest movements in design is multi-purposing areas of the home, thereby making both the space and design budget more efficient. Now, Interior Designers have a new piece of furniture that will change the look of any living room, office, or home gym. The Body Archer can be used as an ottoman, an office chair, and as a stretching device, allowing the users to "arch" their backs in a well supported spinal stretch. By relaxing the back, the user reduces body fatigue and discomfort, while maximizing productivity as well as improving his or her posture at work or home.
Matching visual cues and room color is made easy with a choice of four different colors and two different wood shades. The Body Archer can be designed into a wide range of rooms, from an industrial environment to a cozy home office, living room, or hotel suite. Since The Body Archer is very easy to adapt to any room, it matches several themes while still making a bold statement, keeping health and wellness in sight and in mind.
Work and well-being meets pragmatism. Interior Designers are always facing issues with price, function, and aesthetics but at $399.00, The Body Archer is a fresh, cost effective idea for trying something new with incredible value for re-purposing furniture. You can use it as a stylish piece of ergonomic furniture, a workout device, an ottoman, or a stretching device.
The hidden advantage is that The Body Archer is always in view making work and stretching fun, easily accessible, and efficient. If you are designing a new living space and need inspiration, look no further.
About Body Archer
The Body Archer is a work of found inspiration invented by a certified massage therapist and developed to realization by Body Archer LLC founders Robert Wald & Kim MacKenzie to help prevent back injuries and assist the 31 million Americans suffering with back pain. The Body Archer is manufactured in the company's home base of Los Angeles, California, using high quality materials to create their thick comfortable foam arch, reinforced sturdy wood undercarriage, anti-slip rubber rocking bottom, and antibacterial vinyl fabric. The company's mission is to help people lose the back pain and educate consumers on the benefits of keeping a strong core and a flexible body and spine.
http://www.bodyarcher.com