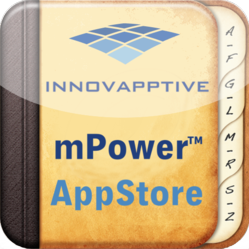 Houston, TX (PRWEB) May 22, 2013
Innovapptive Inc., an SAP Mobile Apps Partner, announced the release of an Enterprise Private App Store solution for customers looking to build a private app store to distribute, control and manage their SAP Mobile Apps. Innovapptive's mPower ™ App Store is offered under Innovapptive's mPower ™ Apps Suite and is powered by SAP Afaria. The mPower ™ App Store empowers customers to quickly deploy business critical SAP mobile apps with appropriate security and control. Unlike a public app store, a private app store provides customers with the flexibility and security to push appropriate mobile apps to a targeted group. In addition to making consumption of enterprise mobile apps seamless, the mPower ™ App Store provides administrators with the ability to manage over-the-air updates, and administrator portal to manage end user devices, security policies and usage reporting.
The Innovapptive mPower ™ App Store powered by SAP Afaria offers customers the following benefits:

Self-service procurement of enterprise mobile apps
Configurable groups to push specific apps to employees by job function and designation
Share new enterprise mobile apps through push notifications
Push updates, patches and OS upgrades for mobile apps
Customizable, web-based method of enrolling users into your mobile device management tool
End-user self-service portal for users to manage their own device, such as remote wipe, passcode reset etc.
An administration portal to perform configuration and set up of tenants, security policies, and apps.
Administration portal to generate device and app usage reports by region/geography.
"With the mPower ™ App Store solution, enterprises can ensure that employees are viewing and downloading enterprise mobile apps that are specific to their job function. An enterprise private app store provides a secure medium to distribute, control and manage company-approved apps," said Sundeep V. Ravande, President & co-founder, Innovapptive Inc.
Gartner predicts that Twenty-five percent of enterprises will have an app store by 2017, in part due to this greater degree of control and analysts at Forrester Research, say that it is imperative to adopt a private app store to ensure correct versions of apps or content that are being used. Innovapptive provides an end-to-end managed mobility service, in addition to the mPower ™ App Store. More information on Innovapptive's mPower ™ App Store and managed mobility service offering can be found on their website http://www.innovapptive.com. Innovapptive offers qualified customers a unique opportunity to be on their advisory board to influence their mPower ™ Apps Suite road map. In addition, Innovapptive offers a 30-day free trial to test-drive its SAP certified mobile apps with their demonstration systems.
About Innovapptive
Innovapptive Inc. is an SAP Certified partner specializing in several SAP Modules and SAP Mobility - development, consulting and staffing. Innovapptive provides a wide range of SAP product engineering and consulting services in SAP Mobile Apps, SAP MM, SAP SRM, E-Sourcing/CLM, SAP BI, SAP HANA and SAP FICO. Innovapptive's team of SAP professionals focuses on placing customers in the forefront by offering them game changing end-to-end solutions to maximize their ROI.