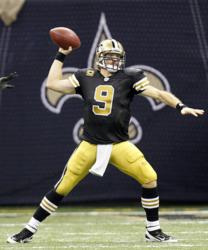 New Orleans, LA (PRWEB) May 21, 2013
In 2012, the New Orleans Saints finished in a tie for second place in the NFC South with a 7-9 record. Their 2013 schedule has been released, and this may be the bounce back year for the Saints. The New Orleans Saints will start their season with a game against the Atlanta Falcons. While these two teams split the series last season, this will definitely be an exciting matchup. The Saints will have the edge over the Falcons, as they are playing at home in week one. In week six, the Saints will come up against last year's AFC East champs, the New England Patriots. This will be quite the show, as two elite quarterbacks will be meeting. Drew Brees of the Saints and Tom Brady of the Patriots are both great veterans who will lead their offense to much success. It will be up to the defense of each team to determine the outcome of this competition. One of the most stimulating matches this season for the Saints will come in week 11 against the San Francisco 49ers, last year Super Bowl runner ups. The Saints will certainly be coming out for revenge, as the 49ers beat them at home in 2012. Make sure you go to http://www.NewOrleansSaints-Tickets.net to make sure you grab a seat for this event. http://bleacherreport.com/articles/1606511-2013-new-orleans-saints-schedule-game-by-game-predictions-info-analysis.
The Saints made five selections in this year's NFL Draft. In the first round they chose overall pick number 15 Kenny Vaccaro. Vaccaro is a free safety out of Texas who is versatile and athletic. He will undoubtedly be a huge help for the Saints. In the third round, the Saints picked Terron Armstead from Arkansas-Pine Bluff. Armstead is an offensive tackle that very much fills a void on the team. He has great athleticism and ability to move, and he has a great knack for blocking. Check out http://www.NewOrleansSaints-Tickets.net to see if this rookie gets the nod to start in 2013. http://bleacherreport.com/articles/1616181-saints-2013-draft-picks-results-analysis-and-grades.