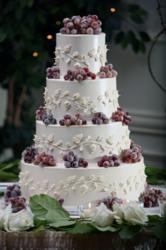 Newport Beach, CA (PRWEB) May 22, 2013
Towering, white wedding cakes need not apply for today's trendy brides and grooms. Couples are taking a bite out of the norm and opting to impress guests' taste buds with colorful cakes, assortments of candy, cookies or pies and other uniquely yummy desserts at their wedding (http://www.cbsnews.com/8301-207_162-57582823/weddings-the-hottest-trends-you-need-to-know-now/).
This season, brides and grooms are seeing that despite its tradition, a wedding cake is not a necessity. Instead, they are coming up with new ways to satisfy each guest's sweet tooth.
"Couples are remembering that their wedding day is not always about tradition and more about incorporating pieces of themselves into this special day," says Brett Reynolds, CEO of Wedding.com. "From chocoholic brides to grooms who love gummy bears, there's a way to include these favorites in the big day."
Those looking for variety choose to go the dessert bar route where everything from apple pie, chocolate cheesecake and snicker doodles can be available. Guests are offered a selection of sweet treats favored by the bride and groom. Candy bars are also presented in the same manner with anything from licorice to lollipops. And what guest wouldn't be wowed by ice cream sundaes? Brides and grooms set up self-serve ice cream bars or have the sundaes served to each table.
Still cake, yet more fun, cupcakes are being substituted for traditional tiered or sheet cakes. With no cake cutting involved, guests can grab their own and, of course, couples still have something to smash in each other's face.
For couples who still want to have a wedding cake, there are exciting options to pick from when it comes to the color of the frosting or the decorations added. With its pretty pops of color, ombre frosted cakes are gaining popularity. The top of the cake starts with a lighter shade and heads down to the darkest, most saturated tier, creating a beautiful layered effect.
Whether they opt for the traditional or go more modern, weddings are all about representing a couple's love. Should that love be for cake or another sweet treat is up to the bride and groom to decide.
About Wedding.com
Wedding.com is an innovative new website that connects engaged couples planning their wedding with wedding vendors looking to grow their business. Wedding.com contacts vendors for couples, giving them the power to compare and negotiate while ultimately saving time and money. With 15,000 couples and 25,000 vendors currently using the website, 150,000 proposals have already been sent since their inception. Vendors range in services from wedding planners, photographers, florists, and DJs to custom invitations, party favors, and much more. For additional information about the company and its services, please visit Wedding.com.