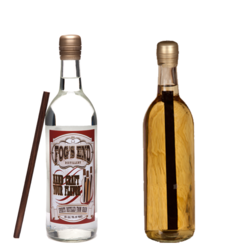 Gonzalez, Californian (PRWEB) May 22, 2013
Let the spirits move you. Here's a unique gift idea sure to please! For Father's Day, why not pick one or more memorable award-winning products from Fog's End Distillery (http://www.fogsenddistillery.com), the only moonshine distillery west of the Mississippi, located in the beautiful Salinas Valley in Central California. Locally made, these thoughtful gifts will be a crowd pleaser that Dad can take pride sharing with family and friends.
Fog's End Distillery products are available nationwide. You can also order online for national delivery at http://www.fogsenddistillery.com and your gift can be shipped straight to Dad. Order by June 9th to guarantee delivery for Father's Day. Be sure to tell Dad about the array of fun cocktail recipes on the website.
Embrace the philosophy of Fog's End Distillery: "Everything in moderation except EXCELLENCE." Artisan small craft distilling has made an international comeback after many decades of large distillery production with limited brands and beverage experiences and why not stimulate our award-winning Monterey County distillery!
There are currently five great products to choose as a great gift for Dad!
"Hand Craft Your Flavor" Whiskey
Here's a gift that will keep on giving as your Father tries his hand at developing his favorite taste with Fog's End Distillery's "Hand Craft Your Flavor" Whiskey – a single bottle kit for hand-crafted flavor. Think outside the barrel by inserting a piece of barrel into the bottle, actually a new stick of American White Oak, medium plus toast. Be empowered to chart flavors that satisfy your discerning taste. Taste notes of vanilla, cinnamon, butterscotch, maple syrup and sweet smoke. Share your experience of the evolution of flavor with your friends and family..........or not.
California Moonshine
Guaranteed to win a smile from Dad, a gift of this award-winning California Moonshine is "made right on the Left Coast," has a smooth and distinct flavor of corn and cane sugar. Bottled at 100 proof, the flavors are surprisingly soft due to slow and delicate distillation of the sour mash in the historic copper pot still. Taste the California Moonshine from Fog's End Distillery and you'll agree that it is the best California Moonshine since the Beverly Hillbillies came west to California!
2012 Silver Medal -The Beverage Testing Institute's International Review of Spirits Competition
Monterey Rye
Give your father a bottle of the multi-award-winning, Monterey Rye, a top seller at Fog's End Distillery which is locally made! Using the no-cook traditional sour-mash whiskey method and copper pot still to produce this smooth Monterey Rye. The process produces distinctive flavor characteristics that are more natural, resembling the flavor of the rye grain itself.
September, 2012 Double Gold Award - TheFiftyBest.com rating the finest in food, wine and Spirits
Silver Medal - International Review of Spirits Competition
2012 Silver Medal in Taste - The Beverage Testing Institute's MicroLiquor Spirit Awards
Primo Agua Ardiente – Cousin's Fire Water
Not quite tequila but a zesty beverage to enjoy with guacamole and chips and more! Hand-crafted in the heart of the beautiful Salinas Valley. Made from white corn, cane sugar, and infused with chili peppers. Primo Agua Ardiente is for those who are warm in spirit.....SALUD!"
Winner of the Silver Medal in Taste at the 2012 MicroLiquor Spirit Awards
White Dog
This is plain and clear but who doesn't love White Dog? Fog's End Distillery uses the no-cook traditional sour-mash whiskey method and copper pot still to produce a delicious "White Dog" from organic rye.
About Fog's End Distillery:
Fog's End Distillery is reminiscent of small family distilleries that flourished on America's farms, whose customers were family and friends. The batches were small with an emphasis on quality through the slow and gentle use of a copper pot still and this is the successful approach now used by the Monterey County-based Artisan Distillery founded by a retired Monterey County Deputy Sheriff, Craig Pakish, Owner/Operator, who established the company in mid-2008.
About Craig Pakish/Owner/Operator:
Craig Pakish was born in 1954 at Fort Knox, Kentucky, the home of Moonshine and American Whiskey. His father was a career military man and Craig had the privilege of traveling from post to post, from Kentucky to California, from California to Germany, from Germany to Pennsylvania, from Pennsylvania to California, from California to Hawaii and finally back to California.
Craig attended Gonzales High School in California and worked summers at the Salinas Valley Feed Lot as a "Hay Boy" and later as a "Feed Truck Operator". He was a member of the Future Farmers of America and in 1972, he won Grand Champion Steer at the Salinas Valley Fair.
After two years at Hartnell College, he transferred to Humboldt State University and earned his BS in Wildlife Management. During the summer of 1976, he worked as a deckhand on a river boat that pushed coal barges on the Ohio River and Cumberland River. It was during his tenure as a deckhand that he learned about Moonshine.
In 1978, Craig began a career in managing wildlife and became a Monterey County Deputy Sheriff. After retiring from the Sheriff's Office nearly 30 years later in 2006, he went into business to make Appalachian Moonshine right, but on the Left Coast. He took a brewery course at U.C. Davis and read numerous books about distilling spirits. In mid-2008, production was started using a 60 gallon cooper pot still made by Colonel Vaughn Wilson of Arkansas. Craig formed Fog's End Distillery and began production of California Moonshine (Spirits distilled from corn) and Monterey Rye (Spirits distilled from grain).
In 2009, he worked harder to refine his no-cook sour mash whiskey method. The resultant product became more flavorful and smoother. He also began experimenting with American Oak, French Oak, and Hungarian Oak to flavor his Monterey Rye. A proprietary formula of Oak and toast levels was subsequently developed for his Monterey Rye. These experiments also led to a patent pending for his Fog's End Single Bottle Kit for Home Crafted Flavor.
Why not try them all! Cheers! For more information or to schedule a tasting, please call Craig Pakish, Owner/Operator at (831) 809-5941.