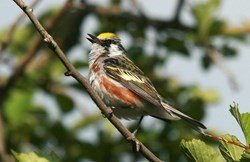 West Virginia easily exceeds expectations when it comes to the number of bird species observed or heard.
South Charleston, WV (PRWEB) May 21, 2013
State parks in West Virginia are meccas for outdoor fun year-round. However, Memorial Day weekend is the kick start to "hello summer" activities that include camping, special events, or simply the holiday weekend for travel.
GO CAMP
Campgrounds in the state park system open fully Memorial Day weekend. Breaking with tradition, Beech Fork and Pipestem Resort state parks offer online reservations in addition to phone in reservations for campsite rentals from Memorial Day through Labor Day weekends. Thirty-one areas within the state park system manage campgrounds ranging from Kumbrabow State Forest remote sites to full hookups at Canaan Valley Resort. Campsites are reservable at most state park campgrounds. Full campground information is posted on http://www.wvstateparks.com, "Lodging & Camping."
UNIQUE FLIGHTS
Aerial tramways are unique attractions at two state parks: Pipestem Resort and Hawks Nest. Passengers in the enclosed tramway cars experience a smooth and rather quick descent to the gorges at these two West Virginia destinations. The Hawks Nest tram coasts into the marina area at its base where visitors can enjoy a trip on the New River Jet Boats. At Pipestem Resort the tram stops at Mountain Creek Lodge after passing over the Bluestone River. Trams are not common. They offer a bird's eye view in flight and accommodate all ages.
ON THE WING
Aerial tramways are assisted flights. Songbirds are actual creatures of flight. Bird watching in West Virginia runs the gambit from backyard feeders to weekends dedicated entirely to bird observations and migration. "West Virginia easily exceeds expectations when it comes to the number of bird species observed or heard," says Joey Herron, one of the leaders of the Canaan Valley Birding Festival on May 30 – June 1. Other birding opportunities are frequent bird walks with Naturalist Jim Phillips at Pipestem Resort, bluebird nest monitoring at North Bend State Park, observing red-headed woodpeckers from a kayak on North Bend Lake, or Lake Trail walks at Blackwater Falls.
JUST A LITTLE FISHY
Fishing for catfish, bass or trout are the favorite species for family angling traditions. Catfish stocking occurs in May at many state park lakes and other public waters. Trout stocking, a cold water fisheries program, occurs in early spring, with stocking schedules posted on wvdnr.gov. Free fishing occurs on two days each year; in West Virginia it is June 8-9 this year. A "take me fishing" day at Tygart Lake State Park on June 8 offers a youth fishing derby and anti-drug activities. Pro-angler Curtis Fleming will be the special guest at the Tygart Lake event. Fleming and other anglers will be assisting youth anglers participating in the derby.
CASS SCENIC RAILROAD: 50 YEARS OF "ALL ABOARD!"
Cass Scenic Railroad has been a tourist train for 50 years. A logging community of the early 1900s, the community industry switched from moving and milling timber to transporting tourists up Cheat Mountain in the mid-1960s. An anniversary run is planned for June 15 at 10:30 a.m. There are 240 tickets available for advance trip planning. A second run at 2 p.m. to Whittaker Station is scheduled as well as a noon trip to Bald Knob. There are 360 train runs in 2013 at Cass Scenic Railroad. Several special runs are in the evening as well as double header excursions (two locomotives) on select Sundays. Cass train rides begin Memorial Day weekend and run through the last Sunday in October. Cass Scenic Railroad information is posted on http://www.cassrailroad.com or call 304-456-4300 for a schedule brochure.
TRUTH IS – THERE ARE LOTS TO DO AT WV STATE PARKS
Sometimes the truth is funnier than fiction. When Bil Lepp takes the stage, this champion liar, comedian, storyteller, author, husband, and father brings a grin to the most ill-humored of attendees. Bil Lepp performs at four of West Virginia's state parks in 2013. Other special programs at the state parks include Three Rivers Avian Center "Wings of Wonder," and educational program about birds of prey. Irish Road Bowling and Dancing with Lou (square-dancing) are also special summer programs. "The Roots of Un-civil War: The 250th Anniversary of Cornstalks' Campaign" is June 1 at Tu-Endie-Wei State Park. Cornstalk's Campaign is the second of three events depicting recorded history of the 1760s. The third event occurs at Hawks Nest State Park on Sept. 7. Six Saturdays at Blennerhassett Island is an interpretative series presented by the "Nature Nuts," a Master Naturalist chapter in the Parkersburg area. Find these events and others at http://www.wvstateparks.com, "Event Calendar."
TAKE A HIKE -- NATIONAL TRAILS DAY IS JUNE 1
The West Virginia state park system offers several guided walks or hikes on this special outdoors day spearheaded by the American Hiking Association. Parks with guided hikes include: Cacapon Resort, Hike Across West Virginia starting at 9 a.m. (cacaponresort.com), Family Trails Weekend at North Bend State Park (northbendsp.com), Watters Smith State Park birding walk at 8 a.m. (watterssmithstatepark.com), and National Day of Service activities at Twin Falls State Park (twinfallsresort.com). In West Virginia the greater hiking suggestion is to simply "take a hike" on Saturday, June 1 at a state park or state forest and record the number of miles walked or hiked. Receipt of the log card to the central parks office results in the participating receiving a certificate and patch. An online log card is posted at http://www.wvstateparks.com, "National Trails Day."
There are 49 areas that make up the West Virginia state park system. Learn more at http://www.wvstateparks.com or call 800 CALL WVA to receive a state park general guide.