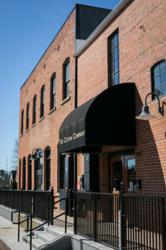 Wake Forest, NC (PRWEB) May 23, 2013
The Cotton Company of Wake Forest is currently home to over 50 local retail businesses. Our Marketplace Shopping Experience is ideal for small local business start ups and local artisans looking to showcase new products as well as offering great opportunities for more established businesses to expand into the Wake Forest Market. The areas around Wake Forest, NC are booming with a 30 something population and growing family community. The Historic Downtown Merchant Group has been working diligently to create a family friendly environment with shops and services along South White Street by creating seasonal town events while also hosting a growing and vibrant artist community for Art After Hours.
The Cotton Company is open 7 days a week and hosts monthly artist exhibits. We participate in every downtown seasonal event which grants unparalleled access for the public to experience The Marketplace and Art Gallery. Our goal is to create an anchor for the community and offer an environment for small businesses to thrive, experimenting with new product lines and to sustain a safe haven for a small business to test their entrepreneurial spirit without the overhead costs of keeping staff and operating hours on their own. The goal is for a person to come into The Cotton Company with a great business idea and either build a loyal clientele or expand an existing customer base in a supportive setting, then to have them stay for many years or move out into their own establishment.
A few success stories that have come from The Cotton Company are existing today on South White Street. Artisan and Metalsmith Ginger Meek Allen once had a Resident Artist Studio inside The Gallery creating beautiful hand crafted jewelry and offering jewelry repair services. She now works out of her own studio and hosts her own local artists for Art After Hours in her Gallery. Another true story comes from The Marketplace in the form of an Interior Design Retailer going from a small yet successful booth to opening a full retail location that is attached to a local cafe. Everette Lobban Interiors transformed into Mimosa Home & Gifts offering upscale interior lines and gifts for all occasions.
New businesses start each year inside The Cotton Company and a variety of factors contribute to their success. Even now, in the midst of a lingering depression vendors with solid business plans are expanding inside our walls and offering more products for todays savvy shoppers. A few new businesses are moving in but especially in todays market we challenge each vendor inquiry to produce a year long business plan to prove a level of commitment to their product and to our location. The Cotton Company strives to protect the vendor experience here inside The Marketplace and Art Gallery by limiting brand competition and encouraging product variety. This strategic effort enhances the vendor experience by ensuring the best possible showcasing opportunities while at the same time offering the customer the best possible shopping experience.
The Cotton Company is a local Marketplace Shopping Destination in the heart of Historic Downtown Wake Forest. We offer a variety of gift and home decor ideas along with a wide selection of local art and craft items like pottery, stained glass, and wooden arts. We also have Event Space for rent and host many weddings and corporate parties throughout the year. We regularly partner with other businesses on South White Street in order to create and maintain a strong foundation for the downtown community. We host many in store events such as Artist Receptions, Ladies Night Out and Ladies Fashion Shows as well as participating in the community events like Meet in the Street and Town Festivals. We strive to make consistent marketing choices for the storefront and encourage our vendors to promote themselves in conjunction with our efforts. We believe this makes our vendor community stronger and as a result the shopping community benefits from our success.
Come and see why The Cotton Company is a special place to shop and the perfect place to start a new business. For more information about starting your small business inside The Marketplace or Art Gallery contact our Vendor Manager for booth rental details.