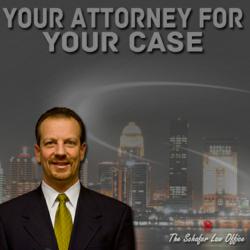 This is the first time The Schafer Law Office has been nominated. I hope that I am doing a little to give back to the city
Louisville, KY (PRWEB) May 23, 2013
The Schafer Law Office, a law firm handling Kentucky personal injury cases, has been officially nominated for Greater Louisville Inc.'s 13th Annual Inc.credible Awards, presented by Strothman & Company PSC.
Inc.credible Awards celebrate and recognize outstanding small businesses that drive job growth and wealth creation in Greater Louisville. The 2013 Inc.credible Awards are awarded in a series of categories namely Very Small Business of the Year Award (1-9 employees), Small Business of the Year Award (10-100 employees), Innovation/Technology Utilization Award, International/Global Award, Health & Wellness, Greening/Sustainability Award, Inclusion Award, and Non Profit Award.
Asked about the nomination, Kentucky Personal Injury Lawyer Mike Schafer said that he is humbled by just being nominated. Online nominations were held from April 22- May 10, 2013 and people who submitted nominations remained anonymous.
"This is the first time The Schafer Law Office has been nominated. I hope that I am doing a little to give back to the city," he added.
The Schafer Law Office is composed of an experienced and dedicated staff including JD Duran (Marketing Director), Leta Hecker (Case Manager), Paula Brown (Secretary), Rachael Schafer (Marketing Assistant), Angela Morrow (Paralegal), and Matthew Kinney (Law Clerk).
Mr. Schafer believes that by helping those that have been injured through no fault of their own and helping them fight their battle against the insurance companies to get fair and just compensation, he, together with his staff, is making Louisville a better place to live.
On August 23, this year's winners will be announced at the Inc.credible Awards Luncheon. More than 500 business and community leaders are expected to attend and honor Louisville's top small businesses which continue to contribute to the region's economic vitality.
Integrity HR, Inc, Denzinger Family Dentistry, Social Media Explorer and Louisville Geek were among the 2012 Inc.credible winners.
About Mike Schafer
Mike Schafer is sole practitioner specializing in Civil Litigation including automobile accidents, slip and fall and wrongful death cases. He helps victims of various types of accidents receive adequate compensation. He can be contacted at:
The Schafer Law Office
1218 South 3rd Street, Louisville, KY 40203
Phone: (502) 584-9511
Fax: (502) 636-4702
Toll Free: 855-487-4878
Website: http://www.mikeschaferlaw.com/