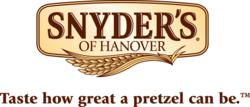 "I know our pretzels taste great, but they also look fantastic when turned into a roller coaster model," said Bob Gould, Marketing Manager for Snyder's of Hanover.
Hanover, PA (PRWEB) May 30, 2013
Calling all roller coaster enthusiasts, pretzel-lovers, model-building hobbyists, and families living along the East Coast from New York to South Carolina: grab some pretzels of all shapes and sizes and let your imagination soar! Snyder's of Hanover and Busch Gardens® Williamsburg announced today the launch of the 5th Annual Pretzel Coaster Build-Off contest.
From now through June 9, 2013, contestants can combine their building skills and creativity to build a roller coaster using only pretzels, glue and a lot of imagination. The pretzel coaster creations should be an original design, although creations can borrow ideas from existing roller coasters.
After completing the pretzel coaster (no larger than 6-feet-wide by 4-feet-tall), snap a picture of the model, upload the image and complete the entry form at http://pretzelcoaster.snydersofhanover.com. The entry site also has images of past entries, videos of previous in-park Build-Off competitions and the full contest rules.
Five semi-finalists will win a trip for four to Busch Gardens Williamsburg to participate in the Build-Off challenge. The prize package includes hotel accommodations for three nights and a $100 gas card. The first semi-finalist will be selected by consumers during a "People's Choice" online voting process. Snyder's of Hanover and Busch Gardens judges will choose the remaining contestants to move into the final phase: a Build-Off challenge at Busch Gardens alongside the 2012 Pretzel Coaster Build-Off defending champion, Maggie Woodward of Herndon, Va.
All 2013 semi-finalists, including Woodward, will compete in a live Build-Off in early July. To keep a level playing field, the semi-finalists will have three hours to build a pretzel coaster replica of Busch Gardens' popular Alpengeist® coaster, which hurtles riders through six staggering inversions at speeds of up to 67 miles per hour.
"I'm amazed every year with the wildly creative entries we receive. I know our pretzels taste great, but they also look fantastic when turned into a roller coaster model," said Bob Gould, Marketing Manager for Snyder's of Hanover. "We enjoy sponsoring this annual contest since the planning and building process can be a fun activity for families."
From a functional standpoint, Gould hints that Snyder's of Hanover Rods and Sticks provide great vertical support for the coaster, while Snaps work well for the track. Minis, Sourdough Hards and Nibblers are among the many varieties that can add flare and flavor to the design.
"We enjoy seeing the twists, loops, rolls, drops and other roller coaster elements contestants incorporate into their models," said Busch Gardens Marketing Director Scott Clemons. "Building a pretzel coaster is such a great hands-on opportunity that keeps math, science and artistic skills fresh."
The Snyder's of Hanover 2013 Pretzel Coaster Build-Off is open to any resident of New York, New Jersey, Connecticut, Pennsylvania, Maryland, Delaware, the District of Columbia, Virginia, North Carolina or South Carolina aged eight years or older (with parental or legal guardian consent).
About Snyder's of Hanover
For more than 100 years, Americans have enjoyed Snyder's of Hanover pretzels. With its unique sourdough heritage, Snyder's of Hanover pretzels today are available across the country in single-serve sizes as well as larger, 10, 12 and even 16-ounce bags perfect for sharing. Today, America's favorite pretzel is available in a wide variety of flavors, recipes and shapes, including traditional hard pretzels, flavored pretzel bites, sticks, rods, nibblers and even gluten-free options. For more information, visit http://www.snydersofhanover.com. Or find Snyder's of Hanover on Facebook, Pinterest or Twitter.
About Snyder's-Lance
Snyder's-Lance, Inc., headquartered in Charlotte, NC, manufactures and markets snack foods throughout the United States and internationally. The Company's products include pretzels, sandwich crackers, potato chips, cookies, tortilla chips, restaurant style crackers, nuts and other snacks. Snyder's-Lance has manufacturing facilities in North Carolina, Pennsylvania, Iowa, Indiana, Georgia, Arizona, Massachusetts, Florida, Ohio, and Ontario, Canada. Products are sold under the Snyder's of Hanover®, Lance®, Cape Cod®, Pretzel Crisps®, Krunchers!®, Tom's®, Archway®, Jays®, Stella D'oro®, EatSmart Naturals® ,O-Ke-Doke® and Grande® brand names along with a number of private label and third party brands. Products are distributed nationally through grocery and mass merchandisers, convenience stores, club stores, food service outlets and other channels. LNCE-G
About Busch Gardens Williamsburg
SeaWorld Parks & Entertainment inspires millions, through the power of entertainment, to celebrate, connect with and care for the natural world. The Company has been creating innovative entertainment experiences that blend imagination with nature for more than 50 years and is best known for its 11 U.S. theme parks, attractions that hosted more than 24 million guests in 2012 and include the beloved SeaWorld®, Busch Gardens® and Sesame Place® brands. The parks offer guests a variety of up-close experiences, from animal encounters that invite exploration and appreciation of the natural world, to thrilling rides and spectacular shows. In 2011 SeaWorld Parks & Entertainment began expanding its popular brands into media and entertainment platforms to connect people to nature and animals through movies, television, and digital media; plus they began developing new lines of licensed consumer products.
SeaWorld Parks & Entertainment is one of the world's foremost zoological organizations and a global leader in animal welfare, training, husbandry and veterinary care. The Company maintains one of the largest animal collections in the world and has helped lead advances in the care of species in zoological facilities and in the conservation of wild populations. SeaWorld Parks & Entertainment also operates one of the world's most respected programs to rescue and rehabilitate ocean marine animals that are ill, injured and orphaned, with the goal of returning them to the wild. The SeaWorld® rescue team has helped more than 22,000 animals in need over the last four decades.
SeaWorld Parks & Entertainment employs more than 21,000 people nationwide.