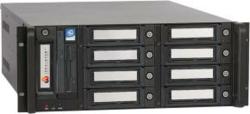 fastest and largest removable WORM disk
Austin, TX (PRWEB) May 22, 2013
Idealstor, a global leader of removable disk solutions, announced today the launch of an affordable solution for meeting compliance requirements. Idealstor (WORM) Write Once Read Many, will offer the largest and fastest removable WORM disk on the market with media costs at less than 20 cents a GB.
Building upon Idealstor's removable disk technology which replaces tapes, customers can now incorporate WORM technology with removable disks which offer larger capacity, better reliability and faster speeds than tape or optical media, to deal with regulatory requirements.
Business relevant data must be stored in an unchangeable format for "compliance" reasons in accordance with country-specific legal requirements. WORM technology is considered a standard for addressing these regulatory requirements such as SEC 17a–4, NASD 3110 (now FINRA), DOD 5015, Sarbanes–Oxley, and HIPAA among others. Failure to comply can impose severe penalties on US companies.
The Idealstor WORM appliance is easy to integrate into the existing network, the appliance runs on Windows 2008 R2 server. Any application can write data to the WORM disk, via CIFS or NFS, without any need for a propietary API.
The Idealstor WORM appliance will be available in 2, 4, 6 and 8 disk configurations with each disk scaling up to 4TB of Raw Data. Each disk can be swapped just like tape to add additional capacity.
"The cost associated with disk based WORM technology has been very expensive" said Nandan Arora, chief technology officer at Idealstor. "The ability to access archived data directly from the file system quickly, scale as data grows, and to do so at a cost effective price is what the Idealstor appliance will offer." The Idealstor WORM appliance will help customers to migrate data not only from outdated jukeboxes, but also technically obsolete spinning disk archive solutions based on proprietary hardware.
Idealstor will be able to offer customers simplified deployment and operation of disk based storage and take advantage of compliance enabling features such as WORM data authenticity, time based file retention and extended file security. Idealstor will now be able to market a comprehensive archiving solution for partners and customers requiring archiving solutions for Enterprise Content Management, email archiving, media and entertainment, video surveillance, file archiving and many other archive enabled applications.
About Idealstor:
Founded in 2002, Idealstor is a pioneer in removable disk backup solutions. Idealstor systems provide the speed and reliability of disk with the portability of tape for Backup, Archiving, Migration, Disaster Recovery and Work Load Availability. Idealstor solutions address all facets of data life cycle management
For more information on Idealstor products and company profile, please go to http://www.idealstor.com.