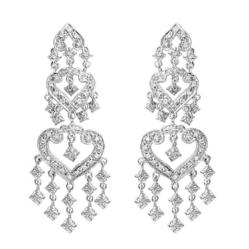 The Great Gatsby movie has revitalized the interest in 1920's inspired vintage jewelry fashions.
New York, NY (PRWEB) May 28, 2013
The popularity of the "Great Gatsby" comes full circle with a new release of this famous classic film. The newest Gatsby movie has done more than inspire ticket sales, it has breathed new life into the fashions of the time, especially The Great Gatsby Jewelry Collection at Allurez.
The Great Gatsby takes place back in 1922. This "Roaring Twenties" time period was especially grand for women who had finally won the right to vote. Women felt free, and with it came more signs of freedom including the much shorter bob haircut, shorter dresses and a love of lots of makeup. In addition, if it sparkled and shined, it was a definite must have accessory. Jewelry headbands, diamond rings, deco inspired brooches, and long pearl strands became the rage, with jewelry accessories featuring diamonds, rubies, sapphires and pearls.
An Allurez spokesman speaking about the hottest spring jewelry trends said, "Jewelry fashion trends, outside of the most popular create your own engagement ring, would have to be a new interest in jewelry of the twenties, inspired by The Great Gatsby."
He continued, "This movie has taken the fun and freedom of that 1920's jazzy time and brought it into the present, with jewelry gifts of art deco linear designs, chandelier earrings, diamond rings and pearls a plenty. At Allurez, we've always featured vintage, classic jewelry. Now we have added a number of Gatsby inspired pieces to the mix, characterized by filigree work, straight lines, diamonds, gemstones and pearls."
About Allurez:
Allurez is an established designer and retailer offering a unique Great Gatsby Jewelry Collection, among their selection of diamonds, precious gemstone and gold and silver jewelry. They are headquartered in New York where they have multiple offices. Their mission is to provide customers with high end jewelry at affordable prices, and to educate the public about the jewelry industry. You can visit them online at allurez.com