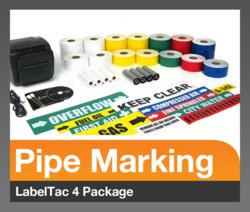 "This package was everything we needed to properly mark all our pipes. We feel confident in knowing we are compliant with OSHA's pipe marking regulations."
Lake Oswego, OR (PRWEB) May 29, 2013
Maintenance managers, safety supervisors, and building owners that are looking for improved safety conditions and increased productivity will need to make sure that pipes, valves and flanges are properly marked with code compliant pipe markers. Having code compliant pipe markers is critical for safety and for avoiding OSHA citations. Creative Safety Supply is now offering LabelTac 4 pipe marking package that comes complete with everything required to get started marking pipes and other safety-related OSHA compliance labels, stickers, and signs.
Facilities have numerous types of pipes contained with different liquids and gases that flow in various directions furnishing what is required to operate every day. It is important to provide proper markings for each pipe so when emergencies happen, first responders can make quick decisions to prevent damage to buildings and insure the safety of employees and visitors. Creative Safety Supply offers a pipe marking guide providing guidelines as well as a reference chart for color, size, and placement of pipe marking labels. Marking pipes is important for OSHA compliance as well as creating a safe work environment.
The package contents include a LabelTac 4 Printer that will print indoor and outdoor labels and are UV, chemical, weather, water, and wear resistant, and won't fade or smear over time. It also includes five different color labels and black and white ribbon that comply with OSHA color standards. With this complete package, anyone will be able to create their own customized labels and put them in place in seconds rather than days by eliminating a third party supplier.
A maintenance worker commented, "This package was everything we needed to properly mark all our pipes. We feel confident in knowing we are compliant with OSHA's pipe marking regulations."
For more information about LabelTac 4 Pipe Marking Package, please visit http://www.creativesafetysupply.com/pipe-marking or call toll-free (866)777-1360 to speak with a professional representative.