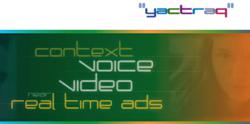 Yactraq was named a TiE50 "Top Startup" for its software platform that extracts meaning from digital audiovisual content.
Vancouver, British Columbia (PRWEB) May 31, 2013
Yactraq, an emerging leader in video content monetization solutions, announced today that it has been named Winner of the 2013 TiE50 "Top Startup" Award at TiEcon 2013 (http://www.tie50.net/TiE50Awards/), the world's largest conference for entrepreneurs. Yactraq was amongst 50 winners honored on Saturday, May 18 at the Santa Clara Convention Center, California.
Yactraq was named a TiE50 "Top Startup" for its software platform that extracts meaning from digital audiovisual content. The software automates the generation of metadata from video at greater speed, lower operational cost, and higher accuracy than has been previously possible. Yactraq's patent-pending discoverability and ad target-ability features significantly expand revenue opportunities for customers in markets such as video platforms and ad technology.
Yactraq also announced that it has been selected to present at the prestigious SVForum's Launch: Silicon Valley 2013 (http://www.launchsiliconvalley.org), Silicon Valley's high visibility platform for emerging technology. The event, to be held June 4 at Microsoft's Mountain View, CA Campus, features products from the most exciting of the newest startups in information technology, mobility, digital media, next generation internet, life sciences and clean technology. SVForum's Launch program will also feature Ray Kurzweil and Guy Kawasaki as featured speakers.
Yactraq Founder and CEO, Jeh Daruvala said, "Back to back achievements like this are a tremendous validation of our video content monetization technology, and a great way to recognize the hard work of our team. Our goal is to set new standards in making audiovisual content more searchable and usable. Winning TiE50 and being selected for SVForum's Launch in the face of such intense competition tells us that our approach is relevant, valuable, and has huge potential in a rapidly emerging market sector."
Speaking to a global audience at the awards ceremony during TiEcon 2013, the conference Chairman and President of TiE Silicon Valley, Mr. Venkatesh Shukla said that "the TiE50 program screened 1142 companies from 24 countries and 50 best-of-breed companies were announced winners."
"Over the past four years, the TiE50 program gained global acclaim attracting startups from all over the world. TiE50 as a brand has gained much recognition amongst the VC and Angel communities – particularly in the Silicon Valley. About 110 finalists and winners had successful exits," said Program Chair Ram K. Reddy.
About Yactraq
Yactraq was founded in 2010 by veterans with collectively over 40 years of experience in telecom, video, broadcast, and pattern recognition technologies. Yactraq makes it easier than ever before to index and monetize audiovisual content. The company's patent-pending Speech2Topics cloud-based solution significantly enhances video content discovery (search, navigation and recommendation), targeted advertising, and content analytics. Speech2Topics has been deployed with live production customers such as DAR.FM. Yactraq was named a CIX Top 20 Winner in 2012 as one of 'Canada's hottest innovative companies'. Yactraq is based in British Columbia with offices in Silicon Valley. For more information visit http://www.yactraq.com.
About TiE50
TiE50 is TiE Silicon Valley's premier annual awards program keenly contested by thousands of technology startups worldwide. Awards are announced at TiEcon, the world's largest conference for entrepreneurs. TiE is a global, not-for-profit network of entrepreneurs and professionals dedicated to the advancement of entrepreneurship. TiE provides a platform for mentoring, networking and education for technology entrepreneurs worldwide. Our global network of 54 chapters located in most major North American, Asian and European countries and cities with more than 14,000 members across 13 countries. For more information visit http://www.tie50.net/TiE50Awards/.
About Launch: Silicon Valley
In its 8th year, Launch: Silicon Valley is now firmly established as the premier product launch platform for technology startups. The event, co-presented by SVForum, Garage Technology Ventures and Microsoft, provides the next generation of emerging technology companies with the opportunity to pitch their products to, and network with, an audience of Silicon Valley's top VCs, Angels, corporate business development executives, prospective customers and partners, bloggers and media. For more information visit http://www.launchsiliconvalley.org.