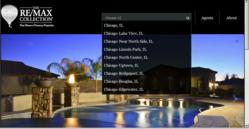 Chicago, IL (PRWEB) May 22, 2013
RE/MAX has launched a new stand-alone website for luxury properties. The RE/MAX Collection, http://www.theremaxcollection.com, is marked by a distinctive onyx and silver logo and presents high-end home listings across the United States in a format featuring a clean, simple design.
More than just a new look, the stand-alone site focuses on the needs of luxury market home buyers and sellers – offering simple search functions, stunning photography and easy navigation.
"The RE/MAX Collection website demonstrates the highest commitment by RE/MAX to serve this elite group of clients, giving them a unique portal to luxury properties and the RE/MAX brokers who are best able to help them with their needs in this specialized market," said Laura Ortoleva, media spokesperson for RE/MAX in northern Illinois. Along with helping buyers and sellers as they navigate the high-end property market, the program also provides RE/MAX luxury specialists with exclusive training and marketing tools that allow them to deliver premier service to their clients.
RE/MAX has been the leader in the northern Illinois real estate market since 1989. The RE/MAX Northern Illinois network, with headquarters in Elgin, Ill., consists of 2,000 sales associates and 100 individually owned and operated RE/MAX offices that provide a full range of residential and commercial brokerage services. Its http://www.illinoisproperty.com and http://www.remax.com websites are leaders in consumer visits among real estate franchise brands. The http://www.global.remax.com website allows consumers to search properties across the globe and http://www.theremaxcollection.com is a specialized portal of luxury properties across the U.S. The northern Illinois network is part of RE/MAX LLC, a global real estate organization with 91,000 sales associates in 90+ nations. The RE/MAX organization has been recognized for numerous industry honors for excellence, and its Associates continue to lead the industry in professional designations, experience and production. Nobody in the world sells more real estate than RE/MAX. RE/MAX is the official real estate partner of Children's Miracle Network Hospitals and the national sponsor of Susan G. Komen for the Cure®.