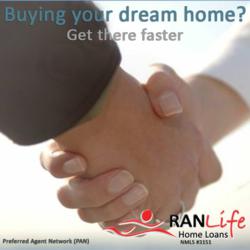 The goal was to really set ourselves apart from other mortgage lenders by providing the best customer service out there.
Salt Lake, UT (PRWEB) May 30, 2013
RANLife Home Loans and Real Estate, a full service lender based out of Salt Lake, UT, implemented their "Preferred Agent Network" (PAN) program with the hopes of creating trust along with a true line of communication between mortgage consultants, real estate agents, and more importantly the client. Since PAN's inception the program has seen considerable results and it is continuing to grab the attention of real estate professionals nationwide.
One of RANLife's real estate agents, Cheryl Barnett-Estoque, played a huge role in developing the PAN program for RANLife. "The goal was to really set ourselves apart from other mortgage lenders by providing the best customer service out there," commented Cheryl. In order to do this six objectives were devised to fulfill through the RANLife PAN Program:
1. To help RANLife mortgage consultants build strong relationships between clients and real estate agents nationwide
2. To increase client loyalty
3.To give all participating mortgage consultants their own personal, exclusive PAN team
4.To drastically reduce and ultimately eliminate the risk of losing clientele
5.To eliminate the duty and undue pressure of locating a qualified Realtor professional
6.To promote a "Win-Win" situation for all parties involved.
So how does it work?
A RANLife mortgage professional obtains and credit approves a client for a home purchase. With the client's approval, the mortgage loan officer emails a RANLife Real Estate Representative with their client information. The representative interviews and selects a qualified Realtor in the client's area of interest and sends a referral agreement to secure the alliance. The Preferred Agent then contacts the client to begin the home selection process. If at any time the client cannot get a hold of their preferred agent or mortgage loan officer, the RANLife Representative will mediate the situation and find the quickest solution.
Since implementing PAN, what RANLife has found has been phenomenal. The working relationship between mortgage consultants and real estate agents made the purchase process quick and hassle free. Clients no longer have to fear the home buying process because they can rest assured they are in good hands.
"We all benefit from closing a deal quickly and working with people we trust," Cheryl stated, "In a time where so much business is online, you might not necessarily see your client face to face, but it's important for them to know they are being well taken care of." Through PAN, each and every transaction builds trust and loyalty with their clients, but most importantly creates a "Customer For Life."
Overall, RANLife has created the ultimate home buying experience by providing the most qualified representatives with outstanding customer service. "Not only did we devise a network of preferred agents but our new channel of communication has made us a preferred lender nationwide," said Cheryl. The road to finding your dream home can be a long one but with the help of RANLife and their PAN program you can get there faster.
Getting Involved With RANLife's Preferred Agent Network
For qualified Real Estate professionals that want to be a part of a successful network of Realtors, please contact a RANLife Real Estate representative today.
About RANLife Real Estate
RANLife Real Estate knows that every transaction represents the most important purchase or sale a person can make. Whether buying or selling your home, RANLife Real Estate is here to advise you throughout the entire process. As a local expert, you can trust RANLife Real Estate to help you secure the home of your dreams. To find out more please visit http://www.ranliferealestate.com 6298828-CN00