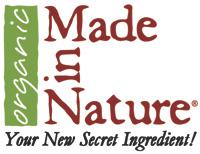 Boulder, CO (PRWEB) May 22, 2013
As the leading and longstanding brand of premium, organic dried fruit, Made In Nature is committed to providing the highest quality, best-tasting products available. The company is thrilled to have taken the additional step of supporting the Non-GMO Project and obtaining their Non-GMO Project verification.
Non-GMO Project Certification verifies that all of Made In Nature's organic ingredients are produced in compliance with the Non-GMO Project Standard, including ongoing testing of any potential risk ingredients. The Non-GMO Project is currently North America's only independent verification for products that are made according to the best practices for GMO (genetically modified organism) avoidance. GMOs have never been properly tested for human consumption and have yet to be proven safe.
Made In Nature supports sustainable organic farming not only because it produces the best tasting fruit on the planet, but because it is safe and healthy for their consumers as well. They are committed to developing products without the use of GMOs and will hold their products accountable to ongoing testing of GMO risk ingredients. Made In Nature believes their customers have a right to know what is in their food and deserve the healthiest food available.
Made in Nature, the #1 organic dried fruit brand in the U.S., keeps its promises to its customers and Mother Nature taking the path less chosen in dried fruit production and never uses added sugar, sulfur or artificial additives, colors, flavors, genetically modified organisms, preservatives, pesticides, herbicides or fertilizers.
For more than 25 years, Made In Nature has remained committed to environmental stewardship, helping to convert thousands of acres of land to organic farming. Many of these farms use renewable energy and provide shade and habitat for endangered species. By procuring only 100 percent certified organic fruit from dedicated organic farmers from around the globe, the company believes they offer the best tasting and most nutritious dried fruit on the planet. Made In Nature is available nationwide at Whole Foods Market, Sprouts, Costco and leading natural, specialty and regional grocers. Made In Nature also offers organic fresh produce and organic artisan frozen pizzas.