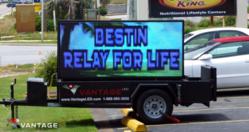 "We're always on the lookout for outreach opportunities." James Anderson, Vantage LED
Destin, FL (PRWEB) May 23, 2013
The journey to end cancer starts with a single step. On May 11, 2013, the American Cancer Society took that step along with over 150 participants by joining the global Relay For Life movement in Destin, FL. The walk took place at the Morgan Sports Complex. It was an opportunity to not only honor cancer survivors and remember loved ones lost, but also to raise awareness about what people can do to stay well from cancer and raise money to help fuel the world's largest walk to end cancer. Vantage LED was onboard to help raise awareness for this special event by donating a mobile LED Sign trailer.
"This event could not have been a success with the help of our in-kind sponsors and the many other volunteers who donated their time." Stated Jean Grieve, Event Chair for Destin Relay For Life.
Jean continued, "We appreciated the timeliness in which [Vantage LED] was able to piece it all together on such a short notice and have no doubt it helped draw the general public to the event."
The full color LED Sign trailer was delivered by Vantage LED's Florida Sales Division. They quickly created dynamic content for everyone to see as they passed by the sports complex.
"Typically, we use our trailer for dealer and client demos, but we're always on the lookout for outreach opportunities. Fundraising events are on a tight budget and advertising usually relies heavily on word of mouth. We hope we can bridge that gap substantially with our LED sign trailer." stated James Anderson, Vantage LED Regional Sales.
Each year, more than 4 million people in over 20 countries raise much-needed funds and awareness to save lives from cancer through the Relay For Life movement. Relay For Life in Destin, FL projected that they exceeded their fundraising goal by at least 50%. While the American Cancer Society is making progress toward a future without cancer, Relay For Life in Destin, FL will continue to walk to make sure that happens.