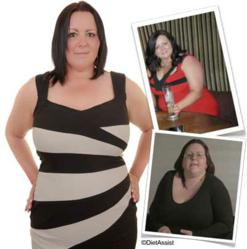 I had never really thought my weight issues were about what was going on inside my head.
London, UK (PRWEB UK) 22 May 2013
Julie used DietAssist to change her thoughts and behaviours around food and she lost over 2 stone and dropped 2 dress sizes in just 6 weeks according to a case study issued by DietAssist this week.
Before starting DietAssist, Julie describes how she had tried almost every diet possible, but found that as soon as she stopped, the weight piled back on.
By the time she started DietAssist, she was morbidly obese, weighing 17.5 stone, and her eating was out of control.
Julie says, "I did everything to excess: chocolate, takeaways, alcohol. I didn't really think about it and if I fancied a pizza, a donut at work, or going out for a few drinks or a curry, I'd think, 'yeah… why not?'"
By taking the DietAssist programme, Julie found that her eating habits changed and the weight began to drop off. After 6 weeks, Julie had lost over 2 stone and dropped 2 dress sizes.
When asked about the change in her behaviours, she says, "I find it so much easier to make healthy choices and I naturally go for a smaller portions too. If I do serve up too much, I can just leave it – rather than eat everything on my plate like I used to."
"I had never really thought my weight issues were about what was going on inside my head. All of a sudden, I felt in control, no longer constantly thinking about food or what I am eating next. I eat smaller portions and don't pick."
Julie says she found the DietAssist programme was convenient and easy to use. She explains that she downloaded the programme to her phone and listened to it on the way to work, during her lunch hour or any time she had a spare 10 minutes.
Asked about life on the DietAssist programme, she says, "I am not being pushed to follow anything, I don't have to follow a strict regime or buy expensive shakes or bars, I am doing what I know is right in my head. I went on holiday to Blackpool, the home of fried food and sugar, and I lost two pounds."
Rob Woodgate, co-creator of DietAssist, said "Julie's story shows the remarkable results that can be achieved when a person's mindset changes. Although DietAssist taught Julie how to take control over her eating, she deserves all the credit for using what she has learned in the most powerful way to achieve such a dramatic result in such a short period of time."
"At DietAssist, we teach people the psychology of dieting and tricks to help them work with their mind so that they can lose weight more easily."
The DietAssist programme is the result of over 20 years experience of helping people to lose weight effectively, and uses the latest psychological techniques to avoid the self sabotage and demotivation that dieters commonly experience.
The DietAssist programme helps dieters strengthen their motivation and resolve, and creates the optimum psychological state for success. It is designed to work alongside any weight loss programme or sensible eating plan.
Julie is available for interview. Please contact Paul Howard on 020 3397 4343 to arrange an interview.