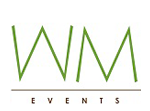 Atlanta, Georgia (PRWEB) May 23, 2013
You've been buying organic foods, driving a hybrid and recycling for years now. But, is it possible to also make the most extravagant day of your life environmentally friendly? "Absolutely, you can go green at your wedding!" says William Fogler, principal of WM Events, based in Atlanta and Denver.
One of Fogler's masterpiece green weddings took place at Pastures of Plenty, a picturesque venue outside of Boulder in Longmont, Colorado. The setting featured a tent and arbors decorated with flowers grown on the property. Since the menu was based on seasonal produce, only a menu "landscape" was selected in advance, but the actual dishes were created with the ingredients that were available at the time of the nuptials. The guests enjoyed a seated first course followed by a family-style meal from the Tuscan and Mediterranean landscapes.
Like this Colorado celebration, any wedding can honor a healthy, green lifestyle. From the save-the-date cards to the décor, Fogler is filled with ideas about making sure your big day has a smaller environmental impact.
Venue: Consider hosting your wedding and reception in one location. This will keep your guests and their cars off the road. Choosing an organic farm or other bucolic setting can make a strong statement about your commitment to a natural lifestyle.
Menu: Of course, the menu should be created from all local and sustainable products. Not only is a local, hopefully organic menu good for the environment, it will also highlight the seasonal bounty of the locale. What a treat for your out-of-town guests.
Invitations and Printed Materials: Design your own invitations and printed materials so that you will know the products are environmentally friendly. The Colorado bride made cardboard calendars and attached pencils for her save-the-date announcement. Other options to look for include recycled paper, soy ink, natural chipboard, raffia and twine. Send seed packets to announce the wedding and spread the green.
Welcome Gifts: Instead of a basket of throwaway goods, welcome your guests with something they can use during the wedding weekend and again in the future. How about a stainless steel water bottle paired with healthy snacks? Put everything into an eco-friendly reusable shopping bag to help people save the planet for years to come. In addition to baking banana bread for every guest, the Colorado bride added a variety of local and sustainable products to the welcome gifts, which were placed in an organic cotton reusable bag featuring the couple's logo and tag line "Reuse." Stainless steel water bottles, beeswax candles from a local bee farm and goodies from a local bakery and a chocolatier filled the bag.
Décor: Bring the green into any and all aspects of the décor – from table settings to decorations. Think vintage with tablecloths, china and silver, or honor your heritage with pieces from a family collection. Create an outstanding atmosphere with candle lighting and be sure to choose soy candles. For outside areas, choose natural insect repellents like Burt's Bees products (you can also add these to the welcome bags). At the Colorado wedding, guests will receive a visit from a local ice cream company truck just before vintage school buses carry them from the wedding to the hotel where the after party will take place.
These tips might be focused on weddings, but some of the same ideas can be used to make any event more eco-conscious.
About WM Events
WM Events was founded in 2004 by award-winning designer, planner and consultant William Fogler. With offices in Atlanta and Denver, WM Events is a full service event planning and design firm that handles corporate events, high-end social affairs, weddings and any other sort of intimate or monumental happening.
WM Events is located at 767 Trabert Avenue, Atlanta, Georgia 30318 and can be reached at 678-251-6363 or visited at http://www.wmevents.com.