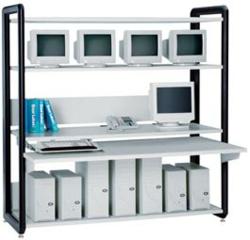 Milwaukee, WI (PRWEB) May 30, 2013
The current financial state of our country has forced companies to tighten their budgets. They cannot afford to have sudden costly incidents. A company's IT equipment is often their most expensive and vital assets. If something were to happen to them, the repair costs would be tremendously high. The company will also lose revenue and customers during the down time that it takes for repairs. Telcom & Data is proud to introduce a product that can prevent businesses from ever having to pay these costs. Advantage IT Furniture and Computer Desks are simple products that can potentially save a company from disaster.
The heavy-duty steel units are able to safely accommodate an office's IT equipment. Each piece of furniture and desk has weight capacities of up to 775 lbs. and comes with lockable storage drawers and overhead compartments. Advantage IT Furniture and Computer Desks are built for strength and longevity. Don't expect to be replacing them anytime soon.
User-specific accessories, including PDUs, peninsulas, cable management solutions, and LCD mounts, can be incorporated into the design to personalize the work environment. Overhead compartments provide storage and organization of files, tools and supplies. The widths, heights and overhead components are all adjustable. This allows for of a comfortable space for each employee.
For more information about Advantage IT Furniture and Computer Desks, visit Rack-cabinets.com or call 800-335-0229.
About Rack-cabinets.com and Telcom & Data:
Since 1996 Telcom & Data has been providing thousands of telecommunication solutions to organizations around the world to measurably improve communications. The company is a leader in server racks and business phone systems. Telcom & Data maintains a network of over 1600 technicians with locations in Chicago, Milwaukee, and Miami. Rack-cabinets.com offers a wide variety of data center equipment and is powered by Telcom & Data.
About Great Lakes Case & Cabinet:
Great Lakes Case & Cabinet is a leading manufacturer of racks, wall mount and free-standing enclosures, technical furniture/command center systems and accessories for the data, communication, broadcast, sound, and security industries. At Great Lakes, quality products and world-class customer service have been the company's guiding principles for more than 25 years.