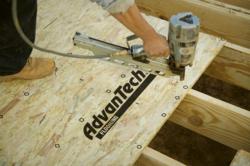 CHARLOTTE, NC (PRWEB) May 22, 2013
Huber Engineered Woods LLC, a leading manufacturer of innovative building solutions, announced today AdvanTech® flooring and sheathing now offers a residential building lifetime limited transferable warranty (previously 50 years) and has increased its no sand guarantee to 500 days (previously 300 days).
The decision to increase the warranty for AdvanTech flooring was made based on extensive laboratory testing and outstanding performance in the field since the product was launched in 1997. "Testing and builder sentiment confirms that AdvanTech flooring is the highest quality subfloor you can put in a home, whether comparing it to OSB or plywood," said Jason Darling, general manager of AdvanTech flooring. "Our warranties reflect the quality of the products we manufacture, and it is crucial that builders and homeowners know that we stand behind our products for the lifetime of their home. While AdvanTech flooring's results over the past decades speak for themselves, we are proud to offer the best warranty in our product category."
AdvanTech flooring has been voted by builders as the number one quality subflooring product for 12 consecutive years according to Builder magazine's annual Brand Use Study. Additionally, it is the only wood structural subflooring product that has Building Code recognized proprietary design values listed in an Evaluation Service Report (ESR-1785), published by the International Code Council – Evaluation Service (ICC-ES). The proprietary design values listed in ICC-ES ESR-1785 are 16-62% higher than those published for 24 oc PS-2 plywood or OSB panels.1
Huber Engineered Woods maintains this ICC-ES report for AdvanTech flooring to elevate it from other OSB and plywood subfloors, which only meet the PS-2 industry standard. The ESR-1785 designation is applied to every 24 oc AdvanTech panel. AdvanTech flooring, identified with an ESR-1785 grade stamp, has endured a battery of testing protocols that measure and ensure greater and consistent levels of panel strength, stiffness and fastener holding power. The results under ESR-1785 for AdvanTech flooring include:

62% better design bending strength than PS-2 quality OSB or plywood panels of the same dimension
28% better design bending stiffness than PS-2 quality OSB
16% better design bending stiffness than PS-2 quality plywood
10% better design fastener holding power than both PS-2 quality OSB and plywood
In addition to the higher published design values noted above, the use of advanced moisture-resistant resin technology applied throughout the panel ensures that AdvanTech panels will stand up to water during the the construction process and defend against swelling, cupping and delamination – guaranteed for 500 days. For more information on AdvanTech flooring visit http://www.advantechperforms.com.
About AdvanTech® Flooring
AdvanTech® flooring delivers the total performance package of strength, fastener holding, moisture resistance, and quality. AdvanTech panels help eliminate floor bounce and squeaks by delivering the highest Building Code recognized design bending strength in the industry combined with high surface density to keep fasteners securely in place. For moisture resistance, AdvanTech flooring – backed by a 500 day no sand guarantee and lifetime limited warranty -- has one of the lowest water absorption rates in the wood-structural panel Industry. AdvanTech flooring has been voted number one in quality for 12 consecutive years by builders. For more information visit http://www.advantechperforms.com.
Huber Engineered Woods LLC is a wholly owned subsidiary of J.M. Huber Corporation. J.M. Huber Corporation, headquartered in Edison, New Jersey, operates a portfolio of companies with a focus on its core engineered materials businesses. Founded in 1883, today Huber is one of the largest family-owned companies in the United States. The diversified, multinational company creates products that are used in a broad range of consumer and industrial applications, including oral care, personal care, food, beverage, pharmaceuticals and building materials. For more information, see http://www.huber.com.
Huber Engineered Woods offers such specialty products as AdvanTech® flooring and sheathing, as well as ZIP System® wall and ZIP System® roof products. Headquartered in Charlotte, North Carolina, Huber Engineered Woods has manufacturing operations in Maine, Georgia, Virginia, and Oklahoma, as well as research and development facilities in Georgia. Huber Engineered Woods also serves industrial markets with products for door manufacturers and the transportation industry. For more information, visit http://www.huberwood.com.
1. Please see ESR-1785 for AdvanTech flooring published design values and the 2012 ASD/LRFD Manual for Engineered Wood Construction published by the American Wood Council for PS-2 panel design values (stress parallel to strength axis), .