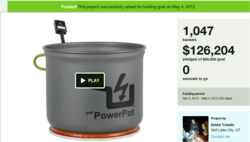 Salt Lake City, UT (PRWEB) May 22, 2013
Last week, Power Practical, a Salt Lake City start-up, celebrated the one year anniversary of successfully crowdfunding the PowerPot on Kickstarter.com. The PowerPot went live on Kickstarter April 4, 2012 with the aim of raising $50,000 in 30 days.
The PowerPot is a thermoelectric generator in the form of a backpacking pot, which generates electricity with no moving parts. Simply add water and put it over a fire to charge any personal electronic device such as smartphones, mp3 players, cameras and more. It only took 9 days to reach their funding goal, and ended the month long campaign on May 4th having sold over 850 PowerPots, which equates to more than $126,000.
Once the Power Practical received their kickstarter campaign funds, they ordered parts and began setting up shop in Salt Lake City to build the PowerPots. It took the better part of a month to renovate an old garage they rented into a clean and an efficient workspace. While waiting for all the parts to arrive, they built custom tools, jigs and furniture necessary for mass production of PowerPots.
Once all the parts had arrived it was go time, but all the funds had been spent on parts for 2000 PowerPots. So a team of 7 friends in their 20's built 1,000 PowerPots for no compensation, in order to fulfill the 1,000 outstanding orders. The mass build out took 3 months, with the last kickstarter order sent out in October of 2012.
From October onward, the PowerPot continued selling online direct to consumer, using the 1,000 extra units purchased from their kickstarter funds. All money from sales continued to be reinvested into the company, while they sought investment from local seed funds to help take their company to the next level.
January of 2013 was an exciting month at Power Practical. They successfully completed a seed round of funding from some local angels and 1 investment institution, hired 9 employees, and launched the PowerPot at the winter Outdoor Retailer show.
Power Practical continues to grow, having hired 2 more employees, and continues to build and sell PowerPots from Salt Lake City. Today you can buy the PowerPot in over 60 independent retail stores, and many of the large outdoor retailers such as Eastern Mountain Sports, Sportsman's Warehouse, and Bass Pro shops.