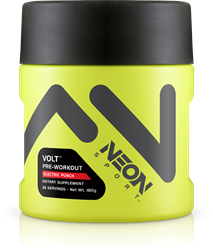 "This is a product for people who say they "don't feel pre-workouts...Trust me, you're going to feel this."
Bryan, TX (PRWEB) May 22, 2013
Woodbolt International: Beginning last week on their official Facebook, Neon Sport™ has now officially announced the names and limited details of all four products in the electrifying supplement brand's initial lineup; Neon Sport Volt™, a pre-workout, Neon Sport Kinetic™, an innovative amino that combines both BCAA's and SAA's, Neon Sport Surge, a maximum strength testosterone booster and Neon Sport Intercept, an AI/Cortisol product and hardener.
Although last week's previews certainly attracted the attention of supplement fans and news blogs, many were left anxious to learn more about the products. Today, across Neon's Facebook, Twitter and Instagram, it seems the brand is ready to release the highly anticipated details, beginning with a statement on their pre-workout, Volt™.
Neon Sport Volt™ is an electrifying combination of energy, pump, and focus ingredients. Volt™ combines premier pump ingredients such as Citrulline and Agmatine Sulfate and a high-powered stimulant and nootropic complex.
"Volt™ was created for pre-workout users who want the strongest and most intense products available," said Woodbolt (makers of both Cellucor and Neon Sport) VP Daniel Lourenco. "Volt's signature ingredient is surely beta alanine, and at max dose, Volt™ delivers, in many cases, more than 2x the amount of max dosed competing products. "
Volt™ is creatine-free, and is powered by an ultra-potent stimulant and nootropic complex that contains Caffeine, Rhodiola and Rauwolfia to deliver over-the-top energy and focus. The product positions itself nicely as a pre-workout supplement for those who don't want to take creatine or nitrates (ingredients featured by the company in Cellucor C4 Extreme for example).
"This is a product for people who say they "don't feel pre-workouts," said Lourenco. "Trust me, you're going to feel this."
Neon Sport Volt will initially debut in three great flavors: a sour Electric Punch, Berry-Pomegranate and Watermelon. Neon Sport is an electrifying sports nutrition brand from the makers of Cellucor, debuting at GNC, Bodybuilding.com and NeonSport.com June 2013. For more information on the launch of Neon Sport, visit NeonSport.com or connect with the hot, new brand on Facebook or Twitter.