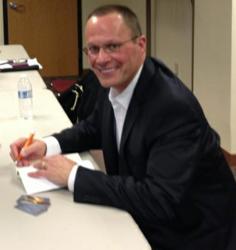 "The mind defaults to what is familiar, even to the point of its own destruction," Cupo says.
Clark, New Jersey (PRWEB) May 22, 2013
Several years ago, Michael Cupo realized that his life would come crashing down if he didn't find another way to approach it. Like millions of Americans, he juggled a career and family with his own expectations, but realized that they were literally leaking away.
Cupo stepped over the edge of himself, threw convention to the wind, and plumbed deeply for answers. His goal: inner peace, which is becoming tougher and tougher to achieve, as technology and society draw people away from it. While what he learned surprised him, his friends were even more amazed by his approach, which they found instantly helpful.
"When I first started on this path about six years ago, my motivation was to find inner peace, but I kept returning to a couple of questions: 'What made me feel a sense of inadequacy as a child?' and 'Why did I have to turn to alcohol and drugs amongst so many other things in the first place?' Cupo says. "The quieter my mind became, the more these questions were being answered. When I shared these answers with other people, the response I would mostly get was: 'I never looked at it like that.'
Cupo, 54, is the author of It's Monday Only In Your Mind, a book that combines his personal story with a specific way to achieve inner peace and transform the way life is viewed in the process: by going beyond the busy mind, into the place where deeper thought, quietness, and spirit meet. While it sounds esoteric to some, he says, getting beyond the daily antics of the Conditioned Mind is a sure way to find greater peace and purpose. It is available to anyone who has an inkling that there is more to life than what is on the surface.
"The mind defaults to what is familiar, even to the point of its own destruction," Cupo says. "The conditioning must be changed if this behavior is to be changed. If this isn't identified, the behavior is repeated over and over until the necessary practice is cultivated to initiate the change. It is our own Conditioned Mind (ego) that keeps us from realizing this. It tells us everything is okay, but it is a big lie.
"Usually it isn't until something dramatic or traumatic happens that this lie is exposed. It is the end of the egoic control that allows for this change to occur. This is the core content of my book, how to instill this change without having to go to the depths of despair."
Cupo has been to the depths of despair and back. After achieving sobriety in 1987, the married father of two and long-time employee for PSE&G from Clark, NJ, became addicted to prescription painkillers about eight years ago. After overcoming that addiction, he realized what landed him in the situation of 1987 and his most recent one – his self-centered behavior. As he evaluated himself further, he learned that it stemmed from acting upon what he terms "Conditioned Mind Patterns," which made him repeat his habitual behavior over and over and controlled his life like he was a puppet on a string.
"This understanding was the catalyst that led to the writing of my book," he says. "After much investigation I started finding answers, and I started noticing changes in my behavior. I was on to something that was real and I knew it was going to last."
The answers he found touch upon revelations that sometimes occur in deep prayer and meditation – which he practices regularly. They go beyond the fickle and distracted Conditioned Mind that controls our sense pleasures. "There is the part of us that is controlled by the senses," he explains. "This is the human aspect (thought based) of who we are. But there is a self that is beyond anything physical, beyond the thought process. Our thought process needs to make the physical solid, so it can have something to grasp and make sense of. But to go beyond thought, one must go beyond attachment to the physical, which is only the result of our Conditioned Mind."
One of the greatest examples, Cupo says, is the negative connotation we often place on Mondays – for most, the first day of the workweek. It's also the most likely day of the week for people to become depressed, according to researchers in both the U.S. and Britain. One study found the average worker only puts in 3.5 hours of productive time on Mondays. Our unsteady relationship with Mondays is so prevalent that Cupo found it a fitting title.
"Our emotional downshift on Monday is due to the way we have been socially conditioned to constantly live our life in the past or future," Cupo says. "We are never in the present moment, so we are always trying to arrange our life the way we think it would best suit us, instead of the way it is. This is very childish, because in reality, Monday is no different than any other day of the week. We agonize over it being Monday week after week for most of our life. This negative connotation clearly illustrates the insanity of the Conditioned Mind.
(It's Monday Only In Your Mind) is available at Amazon.com and through booksellers nationwide. More direct information and a blog can be found at the author's website, http://www.mondayinyourmind.com