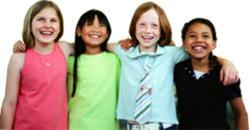 Fairfax, VA (PRWEB) May 22, 2013
In Step, one of the leading providers of mental health therapy in Loudon County and Fairfax County, Virginia and throughout the Washington D.C. metro area, announced it will offer three summer groups programs for children to give them a leg up on their social skills while they are on school break. The programs, which include drama therapy, school preparation, and outdoor social skills, aim to help children improve their social skills while interacting with other children.
"Summer is a great time for kids to learn social skills because they don't have to content with the additional stress of school," said In Step Director Cathi Cohen, LCSW, CGP. "Each of our summer groups allows kids to have fun while learning interpersonal skills." The three groups meet weekly in the early evening. They begin in mid-June and run throughout the summer.
Drama Therapy, a program using theatre/drama techniques, helps children ages 6 through middle school with issues such as anger management, anxiety, social skills challenges and stress management. Kids are encouraged to "act out" their issues in a safe environment through puppets, scenework, and other creative therapy techniques. Skill building works on coping with bullying, reading social cues, and developing coping strategies. These groups are held Monday and Tuesday evenings at In Step's Fairfax location.
The School Starter group helps children entering kindergarten, first or second grade prepare for returning to school. It is designed for students who have anxiety, social challenges or difficulty with transitions. The group focuses on a variety of skills, including how to get along well with teachers and other children, problem-solving, listening skills and how to make a good impression. In Step provides a concurrent group for parents to help them reinforce and practice their child's new skills. These groups are offered at both the Loudoun and Fairfax locations.
Outdoor Social Skills combines fun outdoor games with kinesthetic psychotherapy, a mental health treatment that gives children immediate feedback about their social behavior while playing games and enjoying outdoor activities. Designed for children entering third through sixth grade, this coed group helps kids learn a wide variety of social skills, including how to: voice their feelings, cope with stress, empathize with others, and take responsibility for their actions. This group is held in the evening once a week outdoors at the Fairfax location.
In Step also provides additional mental health treatment services for families, including family therapy, marriage therapy, and anger management programs.
About In Step: In Step is a mental health service provider serving the Washington D.C. and Northern Virginia area from locations in Sterling, Loudon County and Fairfax, Virginia. Founded in 1995 by Cathi Cohen, who has practiced mental health in a clinical setting for 29 years, In Step brings a unique approach to counseling services by focusing on a team-based approach involving the entire family. In Step clinicians believe that it is only through building strong relationships with families that they can affect change. Find more detailed information at http://www.insteppc.com