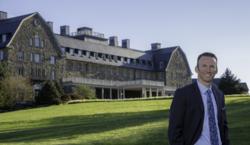 "Wow! It was breathtaking when I saw Skytop Lodge for the first time.
Skytop, PA (PRWEB) May 22, 2013
Skytop Lodge, known as the premiere luxury resort destination in the Pocono Mountains, announces the election of Mr. Douglas Hustad as Vice President and General Manager effective April 2013. Mr. Hustad is taking over leadership from Mr. Ed Mayotte, who has now retired after serving the resort for over 20 years.
"Wow! It was breathtaking when I saw Skytop Lodge for the first time. What a beautiful resort nestled in the Pocono Mountains, that is authentic, rich with history, and has an amazing team dedicated to its success for 85 years. I'm honored and excited to lead the new era of Skytop blending tradition and history with today's relevancy focusing on world-class products and service that exceed expectations of the most experienced traveler," said Mr. Douglas Hustad upon his arrival.
Mr. Hustad is a luxury hotelier with over 25 years of diverse experience in leading and repositioning hotels & resorts to be recognized as top in the world. Most recently he served at Turnberry Isle as Managing Director, Biltmore Estate, Peabody Hotels, and Ritz Carlton. "We feel fortunate to have such an accomplished hospitality professional join our team," stated Skytop Lodge Chairman of the Board, Mr. Richard Price.
Mr. Hustad will continue to lead Skytop Lodge into a new era of excellence, guest centricity, as well as profitability. Some strategic plans include signature products & services, development of theme weekends, advancement of the guest room product, conference capabilities, outdoor activities & team building, culinary excellence, and partnerships with the local community.
Enhanced programming includes Skytop's fantastic 4th of July celebration with offerings all week long:
Red, White & Blues – Skytop's All American BBQ in the Pocono Mountains
Skytop Lodge is the quintessential All American Resort exceeding guest expectations since 1928. Join us as we show Pennsylvania pride in celebration of Independence Day. Fire Works, Blues Music on the South Lawn played by the Pocono Mountains best local musicians, Regional Beer Tastings, and sumptuous barbeque featuring a whole pig roast! Children & adult activities include Ben Franklin kite making, American traditional bonfire story-telling, a stick ball competition and roasted peanuts, harmonica lessons, Red, White, and Blue Frisbee painting and more
Mark your calenders for Skytop's signature Harvest Lake Stroll – October 14th, 2013
Amid fiery foliage and crisp autumn air, the historic Skytop Lodge will celebrate the sights, smells and tastes that make the harvest season so spectacular! Join us for our Harvest Lake Stroll. Food tastings will be prepared by Skytop's culinary artists and fabulous wine samplings from the country's top vineyards, stationed around Skytop's pristine lake. Music, artisan crafts and foods – it's not an event, it's an experience.
For more information about Skytop Lodge please visit skytop.com or call 800-345-7759.
About Skytop Lodge:
Opened in 1928, the majestic Skytop Lodge sits atop a hill surrounded by 5,500 acres of lush landscape, including an 80 acre lake, championship golf course, and exquisite gardens. The resort boasts multiple restaurant & dining outlets, 193 guest rooms, a modern conference center, and world renown adventure center offering boating, skiing, ice-skating, zip lining, rock climbing, tennis, volleyball, extensive nature trails, and more.