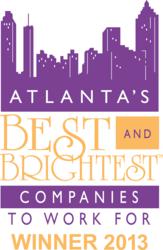 This accomplishment is a reflection of our team members' dedication to shaping PrimeRevenue as an amazing place to work which produces outstanding results for our customers. ~ PJ Bain, CEO
Atlanta, GA (PRWEB) May 22, 2013
PrimeRevenue Inc., the leading platform for optimizing cash flow in global financial supply chains, has been named one of Atlanta's Best and Brightest Companies to Work For™ in 2013 by The National Association For Business Resources. The award honors organizations that display a commitment to excellence in their human resources practices and employee enrichment.
Organizations throughout the region were assessed in categories including communication, work-life balance, employee diversity, retention and recognized by the National Association for Business Resources (NABR) for implementing companywide practices that enhance working conditions for their employees. This year's winners practice innovative strategies that represent best practices in diverse industries such as financial services, technology, manufacturing and nonprofit.
"We are extremely pleased to be recognized as one of the best and brightest companies to work for in the Atlanta area," said PJ Bain, PrimeRevenue CEO. "At PrimeRevenue, we strongly believe that taking care of employees is the foundation of good business. We remain committed to offering our employees a positive work environment that fosters collaboration and innovation with competitive benefits well above industry norms. This accomplishment is a reflection of our team members' dedication to shaping PrimeRevenue as an amazing place to work which produces outstanding results for our customers. PrimeRevenue offers a unique and truly entrepreneurial working environment. What really differentiates us from other companies, however, are our Corporate Values. We believe they are critical components to hiring and motivating the right individuals and ultimately drive our long-term success. Our values are built upon our PRIDE, which includes Performance, Respect, Innovation, Diversity, Excellence and Integrity in what we do and who we are, as individuals and as the PrimeRevenue team," added Bain.
About PrimeRevenue, Inc.
For organizations who view their supply chains as a strategic asset and are seeking to increase supply chain efficiency, PrimeRevenue is the answer, providing cash flows to more than 12,000 buyers and suppliers through the OpenSCi™ platform with the control and flexibility required to drive superior results and reduce cost and capital risk throughout their financial supply chains. Headquartered in Atlanta, Georgia, USA, PrimeRevenue also has offices in London, Paris, Frankfurt and Prague in Europe, as well as in Melbourne, Australia, and Hong Kong SAR, and operates some the largest supply chain finance programs for clients around the globe. For more information or to contact us, please visit http://www.primerevenue.com.
About National Association For Business Resources
The National Association For Business Resources based in Warren, Mich. boasts a statewide sphere of influence that no other organization of its kind can claim, leveraging a depth of programs and community initiatives that positively impact more than 150,000 businesses. For more information or to contact us, please visit http://www.101bestandbrightest.com.
Originally posted on: http://primerevenue.com/