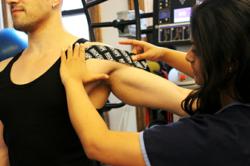 New York, NY (PRWEB) May 22, 2013
Living Well Medical, a leading physical rehabilitation facility in downtown Manhattan, is excited to announce a new level of professional certification to be achieved by Dr. Swapnali Shinde, the practice's lead physical therapist.  Dr. Shinde has been instrumental in the rehabilitation of many of Living Well Medical's patients and is pleased to be able to extend her list of services to include certified kinesio taping utilizing Rocktape products and implementing Rocktape's specialized FMT techniques. 
Kinesio taping has been offered at Living Well Medical by other certified members of the medical staff and Dr. Shinde is the latest practitioner to obtain an exclusive certification. Some of the conditions Dr. Shinde treats often are: Cervical and lumbar spondylosis, Disc degeneration, Spinal stenosis, Sciatica, Osteoarthiris of the hip, knee and Shoulder, Rotator cuff injuries, Condromalacia, ITB syndrome, Postural deviation like Scoliosis and forward head posture, Plantar fascitis, BPPV, Gait abnormalities, Fractures, Ligament sprains (ankle, knee, wrist, elbow, etc), Carpal tunnel syndrome, Thoracic outlet syndrome and muscle strains and various other sports related injuries.
Dr. Shinde is a very well versed physical therapist and treats a wide array of patients suffering from various forms of pain, injuries, and disorders. Working in an integrated, patient oriented practice, she is able to utilize techniques such as manual joint mobilization, Mc Kenzi and Maitlands mobilization techniques, myofascial release, Graston technique, muscle energy technique, posture correction using clinical biomechanics of posture, kinesio tapping, neuromuscular re-education and use of modalities like cold laser and ultrasound. A multidisciplinary practice like Living Well Medical ensures that a patient is able to receive great care from a team of specialists who work with each other every day. Instead of sending patients off with referrals to different doctors across the city, they only need to walk to the next room to share X-rays or go over MRI reports together.
Rocktape's FMT State of the Art certification program focuses on fascial movement taping, which allows for and enhances healthy muscular movement, an important component of healing and endurance.  The double-level certification event will be led by top industry experts in the assessment and treatment of functional movement.  Rocktape's FMT techniques are innovative due to the fact that they are centered in the notion of muscles as a chain mechanism that works with the body's system of muscular contractions and how they connect the brain to the fascial network.  Other taping methods simply concentrate on isolating individual muscles, disregarding the rest of the intrinsically intertwined muscular structures.
Some key points that were introduced at the hands-on intensive course include the applications of FMT techniques to aid in physical rehabilitation, posture, edema, neurological conditions, pregnancy, athletic performance and endurance, and more.
At the conclusion of the certification program, Dr. Shinde was appointed as a Certified Rocktape Doc, as well as Advanced Rocktape Doc.  The program took place in New York City on the weekend of May 18, 2013.  This will greatly heighten the results Dr. Shinde's physical therapy patients will experience throughout treatment as well as post-treatment.
For additional information on Dr. Shinde's physical therapy services at NYC's Living Well Medical or the benefits of kinesio taping with Rocktape, please visit http://www.livingwellnewyork.com or contact 212-645-8151.
 
ABOUT LIVING WELL MEDICAL
Located in downtown NYC's renowned NoHo neighborhood, Living Well Medical is a premiere physical rehabilitation facility that specializes in non-surgical therapies and pain management.  Staffed by a board-certified medical doctor, chiropractors, physical therapists, massage therapists, an acupuncturist, and a neurologist, Living Well Medical assists patients who experience spinal issues, back pain, arthritis, bodily traumas, and common conditions such as sciatica, carpal tunnel syndrome, and more.  Living Well Medical is committed to providing the latest advancements in sports medicine and corrective care using safe and effective treatment protocols and state-of-the-art equipment.  For further information on the practice and range of services offered, please visit living well's website.