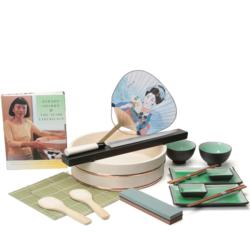 We hope to provide all the resources needed to have fun making sushi at home - John Gibbens of Everything Sushi
Eugene, Oregon (PRWEB) May 23, 2013
A new website, EverythingSushi.co (not .com) wants to help sushi lovers make sushi at home. The web store provides articles on basic instruction, how to books and all the tools and utensils for making sushi.
At EverythingSushi.co they have informational articles such as Essential Sushi Tools, Making Perfect Sushi Rice, and About Japanese Sushi Knives. The site also stocks a large selection of the most popular sushi how-to books such as The Sushi Experience by Hiroko Shimbo.
Everything Sushi has all the essential and more exotic sushi making tools, utensils and tableware for the discerning sushi enthusiast, such as rice paddles (shamoji), rolling mats (makisu), rice tubs (sushi-oke), sashimi knives (yanagiba) and starter sets.
Everything Sushi's online store opened a few months ago and hopes to build a loyal following of customers and sushi lover fans.
About Everything Chopsticks
Everything Sushi is owned and operated by Everything Chopsticks (http://EverythingChopsticks.com), a leading provider of chopsticks since 2005, specializing in quality chopsticks from Asian cultures around the world.