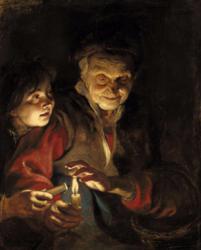 [Rubens] is well-known for his Counter-Reformation altarpieces, portraits, landscapes, and history paintings of mythological and allegorical subjects.
New York, NY (PRWEB) May 30, 2013
Sir Peter Paul Rubens (1577 – 1640) was a prolific seventeenth-century Flemish Baroque painter, and a proponent of an extravagant Baroque style that emphasized movement, color, and sensuality. He is well-known for his Counter-Reformation altarpieces, portraits, landscapes, and history paintings of mythological and allegorical subjects.
In addition to running a large studio in Antwerp that produced paintings popular with nobility and art collectors throughout Europe, Rubens was a classically educated humanist scholar, art collector, and diplomat who was knighted by both Philip IV, King of Spain, and Charles I, King of England.
Rubens' commissioned works were mostly religious subjects, "history" paintings, which included mythological subjects, and hunt scenes. He painted portraits, especially of friends, and self-portraits, and in later life painted several landscapes. Rubens designed tapestries and prints, as well as his own house. His drawings are mostly extremely forceful but not detailed; he also made great use of oil sketches as preparatory studies. He was one of the last major artists to make consistent use of wooden panels as a support medium, even for very large works, but he used canvas as well, especially when the work needed to be sent a long distance. For altarpieces he sometimes painted on slate to reduce reflection problems.
The full version of Mighty Mack's Drawings: Rubens App features over 90 drawings by the great baroque master Rubens.
This App is available for iPod Touch, iPhone and iPad. Optimized for iOS6, retina display and iPhone 5. It allows the users to share images via email, Twitter and Facebook, or save them to camera roll (with no watermarks). Share the artist bio via email. Select favorites. View the images one by one, or enjoy a slideshow.
Enjoy this fantastic visual gallery, share the images with friends, and learn about the artist's life.
Updates Include:

Optimized for iOS 6.1.3
Updated User Interface
New Splash Page
App Requirements:

iPad, iPod Touch or iPhone, with iOS 5.0 or higher
Wifi connection to download the app
An internet connection for sharing images via email, Twitter or FB (no internet connection required to view the App content)
Click here to see the complete collection of Aramis Artists Apps released by Mighty Mack.
--
Mighty Mack is a leading publisher of distinguished digital products for the consumer and professional markets. The Company leverages newly available digital tools to create, design, and share new ways of consuming information and experiencing the world around us. The company has released a variety of best-of-class Apps, including Advertising Today, Morpheus Dreams, Where2Boss?, Agora Briefcase, Film Today, among many others.
To learn more about Mighty Mack please visit their website at http://www.mightymack.com or email them to press(at)mightymack(dot)com.