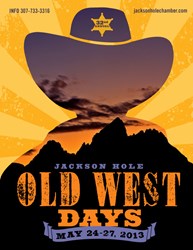 The 32nd annual Old West Days celebrates Jackson Hole's rich history.
Jackson Hole, Wyoming (PRWEB) May 22, 2013
The Memorial Day Weekend Old West Days, May 24-27, usher in the Jackson Hole, Wyo., summer season with fun for locals and newcomers alike. The 32nd annual Old West Days celebrates Jackson Hole's rich history with activities ranging from live music to arts and crafts to rodeo. And the travel experts at the Wyoming Inn, a favorite in-town lodging that just celebrated a grand reopening after a multimillion-dollar renovation, recommend Old West Days events such as one of the country's last horse-drawn parades through Jackson's downtown streets as a perfect activity for traveling families.
Old West Days commences May 24 with events ranging from a historical downtown walking tour to the Jackson Hole Rotary Wine Fest. The horse-drawn parade is followed by a mock shootout in the streets of Jackson, and then an evening rodeo at the Teton County Fairgrounds. Mountain Men, covered wagons and gunslingers abound during the celebratory weekend where the Old West resurfaces on the Jackson Town Square.
Visitors will be able to see how the Wild West lives on in Jackson Hole where heritage and hospitality go hand in hand during Old West Days events and festivities. Visit the Jackson Hole Chamber of Commerce website for the full schedule of events.
For lodging during the events, the Wyoming Inn – a longtime favorite for its convenient in-town location and great service – welcomes guests with its all new guest rooms and baths, offering a fresh, sleek take on the Western theme, as well as the comfortable cowboy styling in its spacious lobby.
Company Information: Just 10 minutes from Jackson's Town Square, the Wyoming Inn offers free shuttle service from the airport and to Jackson Hole Mountain Resort. Known for its spacious, comfortable rooms, luxurious amenities and warm Western hospitality, the favorite Jackson, Wyo., in-town hotel is true to its mission of providing outstanding customer service, with a friendly staff glad to seamlessly arrange a variety of Jackson Hole activities suited to guest interests. Conveniently located on the town's free shuttle line, the hotel provides numerous complimentary offerings including an on-site fitness center and wireless Internet. For information, visit http://www.wyominginn.com or call 800.844.0035.
Media Contacts: General Manager Michael Solis, Wyoming Inn, mike(at)thewyominginn(dot)com, 307.734.0035; Darla Worden, WordenGroup Strategic Public Relations, darla(at)wordenpr(dot)com, 307.734.5335