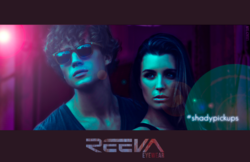 Lead Designer and Marketing Executive at Reeva mentions "There is a lot to come from Reeva, all I can ask is to stay tuned...Our designs are fresh and if you love music like we do you'll get a kick out of what's to come"
Miami Beach, Fl (PRWEB) May 23, 2013
Born in Miami Beach as an underground music phenomenon. REEVA is the pioneer of EDM eyewear and captures the essence of genuine, individual expression.
Reeva's unique concept on eyewear never before connecting music and eyewear. Reeva is in contact with record labels across the globe and designing for the top artists to date.
All of their frames are carefully handmade with the best materials in Italy. They use Mazzucchelli acetates and german hinges. As a result, their frames are superior in color transparency and shine.
@Reeva Eyewear is taking the market by storm and as of 5/22 will open to the public on their ecommerce site http://www.reevaeyewear.com