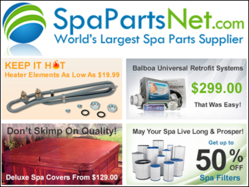 Clearwater, FL (PRWEB) May 22, 2013
One of the most common maintenance issues encountered by spa owners is the failure of the hot tub motor or the pump. For a spa that is more than two or three years old, it's recommended that the entire motor be replaced, rather than just the pump portion of the motor. By performing the necessary maintenance and motor replacements, a spa owner can ensure the longevity and enjoyment of the spa for years to come.
SpaPartsNet.com, the largest online retailer of hot tub parts, created a list of indicators and tips spa owners can utilize to ensure their spa is being properly maintained.
1.Spa Pumps Do More than Suck. Spa pumps are not infallible, and they do tend to leak. After years of use and general wear and tear, a variety of maintenance issues can occur, including bad bearings, leaking seals and overall less than optimal performance. Wear and tear can occur specifically as a result of problems with the spa pump impeller, or corrosion due to overuse of chemicals. By understanding the problems and culprits associated with the malfunctioning of a spa pump, it's possible for the spa owner to stay ahead of maintenance issues.
2.Don't Ignore Indicators of a Bad Spa Motor. In most circumstances a motor is going to display a number of signs that there is a problem. These can include loud screeching noises being emitted, as well as the grinding of metal. When these symptoms are experienced, it is a surefire sign that the spa pump is in the beginning stages of a failure. Another sign that a failure is imminent is a leaking spa motor shaft. The leak will likely begin small, but will gain momentum, which will eventually lead to a total motor failure.
3.Take Matters Into Your Own Hands. If any of these problems are experienced, it's important to handle the situation in a timely manner, to avoid further damage. Changing a spa pump is something that can easily be undertaken as a DIY project, and requires only the use of a wrench and screw driver. Even a novice can typically complete the project in 20-30 minutes. Amy, an expert employee from SpaPartsNet.com, created a YouTube video to demonstrate how the process should be completed:
http://www.youtube.com/watch?v=-EHvMwMNx3M&feature=channel.
If a spa pump shows any signs of trouble, including leaking, screeching or grinding, or even if it's just not performing at a peak level, it could be time to reenergize the spa, with the help of the professionals at SpaPartsNet.com, who can help select the ideal spa replacement motor.
About SpaPartsNet.com
SpaPartsNet.com is the premier hot tub and spa parts supplier. The company offers a full range of products for the do-it your selfer or contractor. They have an extensive online catalog offering a wide variety of Hot tub and Spa products. The site has the largest selection of hot tub parts at unbeatable prices, so customers can rely on SpaPartsNet™ to have the right Pump, Motor or other proprietary spa parts at the best price. To contact SpaPartsNet.com visit their website or call 1-866-829-3660.