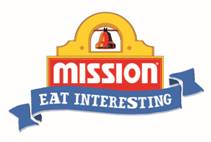 Irving, TX (PRWEB) May 22, 2013
Mission Foods and Wounded Warrior Project® (WWP) announces a partnership to encourage family mealtime as a way to re-connect, strengthen bonds and facilitate the healing process for those wounded veterans re-entering civilian life. Mission Foods would like to honor the men and women of the military with a donation of $350,000 to WWP to help provide support to Wounded Warriors and their families.
WWP, a nonprofit organization, provides programs and services to veterans and service members who incurred a physical or mental injury, illness, or wound, co-incident to their military service on or after September 11, 2001. Their vision is "to foster the most successful, well-adjusted generation of wounded service members in our nation's history".
For every bag of Mission Tortilla Chips purchased, May 6, 2013, through March 31, 2014, 10 cents will go toward the WWP donation. This donation will help support WWP programs and services, specifically structured to engage warriors, nurture their minds and bodies, and encourage their economic empowerment. Look for specially marked packages of Mission Tortilla Chips and displays to help support this worthy cause.
Throughout the year, Mission Foods and WWP will host special events and promotions to raise awareness and provide customers additional opportunities to donate. During the MLB season, Mission Foods will sponsor VIP nights in various ballparks across the country for Wounded Warriors and their families to attend. Through these special events and promotions, Mission Foods will celebrate the brave servicemen and women, and the sacrifices they have made for their country. Donations to WWP help thousands of Wounded Warriors - and their families - as they return home from the current conflicts in Iraq and Afghanistan.
"At Mission Foods, we believe family mealtime is fundamental to building relationships and creating strong communities. By partnering with WWP, we are able to continue this mission by honoring our heroes and their families," explains Courtney Bohrer, Senior Brand Manager at Mission.
"We're proud to partner with a company like Mission Foods that puts such an emphasis on family," said Adam Silva, chief development officer at Wounded Warrior Project "Their commitment to preserving mealtime at home reflects the importance of having a strong support system that helps Wounded Warriors successfully transition to civilian life."
For more information on all Mission Foods products, visit http://www.missionfoods.com/pantry.aspx. To stay up to date on the latest events and programs with WWP, follow Mission Foods on Twitter @MissionFoods and on Facebook at https://www.facebook.com/mission.
About Wounded Warrior Project
The mission of Wounded Warrior Project® (WWP) is to honor and empower wounded warriors. WWP's purpose is to raise awareness and to enlist the public's aid for the needs of injured service members, to help injured servicemen and women aid and assist each other, and to provide unique, direct programs and services to meet their needs. WWP is a national, nonpartisan organization headquartered in Jacksonville, Florida. To get involved and learn more, visit http://woundedwarriorproject.org.
About Mission Foods
Mission Foods, headquartered in Irving (Dallas area), Texas and a division of Gruma Corporation, and Gruma S.A.B. de C.V., a Mexican corporation, was founded in 1949, and is one of the largest tortilla manufacturers in the United States. Gruma S.A. de C.V. is the parent company of Mission Foods (Gruma Corporation) and is a leading Mexican producer of corn masa flour and tortilla products. It has operations in Mexico, the United States, Central and South America, Europe and Asia. For more information, please visit http://www.MissionMenus.com.
###