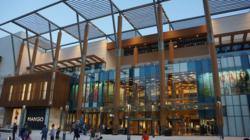 We were able to design a space that references the historical elements of Kahramanmaras within the context of a modern design language.
Kahramanmaras, Turkey (PRWEB) May 22, 2013
Piazza Maras Shopping Center designed by Hollywood, California-based architectural firm 5+design, recently opened in Kahramanmaras, bringing the city its first modern, high-quality retail mall.
"We're very happy with this project," said 5+design associate, Tim Thurik. "Maras is a smaller city in Turkey's southeast region that is agriculturally and textile driven, with a strong focus on natural materials and craft. Taking clues from surrounding areas and buildings, we were able to design a space that references the historical elements of Kahramanmaras within the context of a modern design language. In less than a month since opening, Piazza Maras has already become the most popular center in the region."
Piazza Maras Shopping Center's prime location, set in the heart of the city at the junction of the north-south and east-west highways, ensures a high level of traffic to its 153 retail stores, 24 restaurants, cafes, a family entertainment center, skating rink and eight-screen cinema.
Utilizing local materials and ancient architectural features as inspirations for the project, 5+design fashioned Piazza Maras Shopping Center to be a direct reflection of the vast and rich culture of Kahramanmaras. The 52,000 m2 (560,000 sf) project offers four levels of the latest shops, restaurants and entertainment options available today. Lifestyle, fashion, and home-wares anchor each level of the project, while the upper level is reserved for the restaurant and entertainment district. The top floor, a primary destination for the center, is designed in grand scale with outdoor cafes, open kitchens and dining terraces all under an expansive wood and glass sky lit roof.
5+design designed the project's unique undulating roof as a key site feature, opening to the sky above and framing multiple views of the North historic city center and the Southern Dibec Mountains. A combination of columned arcades, covered markets, and bay windows also reference the historical Maras landscape while seamlessly transforming the spaces into a work of contemporary design.
Piazza Maras provides a blended balance of thoughtful modern design and historical architecture coupled with natural materials of the region. Its informed integration into its surroundings sets a high standard for the future urban development of this traditional Anatolian city.
ABOUT 5+Design
Established in 2005, 5+design creates award winning architectural, planning, urban planning and interior designs for clients across the globe. It creates innovative retail, residential, hotel and integrated mixed-use developments with a focus on the people who use them.
From designing contemporary master-planned communities in China and Egypt to numerous projects in Turkey, Russia, the United Arab Emirates and Asia, 5+design's expansive approach has led to collaborations with top real estate developers on some of the most progressive projects underway around the world.
For more information: http://www.5plusdesign.com