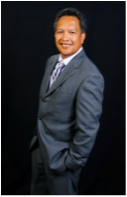 Combined, government, industry and public accounting experience allows Ray to provide a deep technical and balanced perspective to his clients.
Los Angeles, CA (PRWEB) May 21, 2013
Los Angeles-based Certified Public Accounting Firm, Holthouse Carlin & Van Trigt LLP (HCVT), the largest CPA firm headquartered in Southern California, as measured by revenue, is pleased to announce the addition of a new tax partner to their Long Beach office.
Ray Dagarag joins HCVT's Long Beach office after a 15 year career with Deloitte Tax LLP, as a tax partner on March 11, 2013. Ray leads HCVT's State and Local Tax practice. He has over 21 years of experience addressing the state and local tax issues for businesses ranging from start-up to global, complex, public companies. Ray has extensive experience in the corporate state and local tax planning areas of income taxes, sales and use taxes and gross receipts taxes. Throughout his career in Big 4 public accounting as well as private industry, Ray has consulted on matters involving income, franchise, sales/use and excise tax refund reviews, nexus, apportionment, unitary businesses, combined reporting, entity restructuring, mergers and acquisitions, tax efficient repatriation of foreign earnings, state tax controversy, credits and incentives, and state tax legislation. His industry experience is diverse and includes manufacturers, distribution, life sciences, automotive, insurance, energy and entertainment. Ray's background is unique as he served as director of tax planning for a $15 billion publicly held life sciences company, as well as an auditor with the California Franchise Tax Board. This combined, government, industry and public accounting experience allows Ray to provide a deep technical and balanced perspective to his clients.
Ray holds a Bachelor of Science in Accounting from California State University, Long Beach. He is a Certified Public Accountant in California and a member of the American Institute of Certified Public Accountants.
HCVT is a Top 50 National CPA Firm and has been honored as one of the Top 25/50 "Best Managed CPA Firms" for the seven straight years by INSIDE Public Accounting (IPA), a national trade publication and was named as one of the top tax-focused firms in the nation for CPA firms with revenue under $100 million by Accounting Today.
HCVT is a full-service CPA firm formed in 1991 and, in its 21 years, has grown to 34 partners, 31 principals and a total professional and administrative staff of over 300. The firm provides accounting, attest, tax, merger and acquisition, business management and financial consulting services to large, owner-managed businesses, high-net-worth individuals, estates, trusts and qualified retirement plans. HCVT has seven offices in Southern California for the convenience of their clients and employees. Office locations include: Los Angeles, Westlake Village, Long Beach, Pasadena, Orange County, Encino and Camarillo and now Fort Worth, Texas.
With $72 million of annual revenues in calendar 2012, and their ability to attract larger local, national and international clients with expanding accounting and tax needs, HCVT is well positioned for continued successful growth.
HCVT is also an independent firm associated with the North American region of Moore Stephens International Limited, an international association with more than 330 independent accounting and consulting firms throughout the United States and 100 other countries. Moore Stephens International Limited's global reach of associated firms provides HCVT clients access to a wide range of specialists, yet local enough to deliver a high level of personal service.
For more information regarding HCVT, please log onto http://www.hcvt.com or call (562) 590-9535.
For photo file, please contact Janet Mocilnikar at Janet.Mocilnikar(at)hcvt.com or 562 216-1808