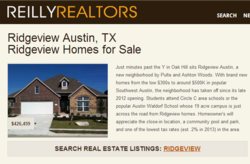 We've collected the most accurate and useful data about the area and created the most user-friendly Ridgeview home search available.
Austin, Texas (PRWEB) May 22, 2013
For nearly two years, Austin, Texas has been considered one of the best places to live in the nation. Companies like Google, Apple and Facebook have decided to put down roots in the tech savvy city, as well as people from across the nation who are flocking to the strong job market, all of whom need places to live. To keep up with the insatiable demand for Austin real estate, home builders have been trying to play catch up for more than a year now as they continue to build beautiful suburban homes that are within a short drive to the downtown area.
The southwest Austin neighborhood of Ridgeview is one such area. Developed by master home builders Pulte and Ashton Woods, this community has been extremely popular since its opening in the latter half of 2012. Ridgeview homes are highly sought after for a number of reasons. The combination of a mere thirteen mile commute to the downtown area, easy access to 290, 71 and Mopac, and the beautiful surroundings of the Texas Hill Country make for an unbeatable location. In addition, students have the option to attend the excellent public schools of the Circle C area or the popular Austin Waldorf School which is just across the street. Ridgeview homeowners also enjoy one the of the lowest tax rates in the area and a community pool.
Courtney Phelps, a real estate agent at Reilly Realtors, comments, "Ridgeview is a highly anticipated community due to its proximity to the downtown area, as well as a multitude of amenities in the surrounding area, including excellent retail areas, golf courses, restaurants and much more."
Given the high demand for such an area, Reilly Realtors has done their best to provide quality information and a variety of search options to aid those looking for Ridgeview homes for sale. Their regularly updated Ridgeview Austin neighborhood page contains excellent information, including a summary of the area, directions to Ridgeview, school information and links to local business websites. Additionally, Reilly Realtors has created many prebuilt searches to help home buyers easily search for homes in Ridgeview. Home buyers can search Ridgeview real estate in a variety of ways, including grid, list and map views. Clients can also save their Ridgeview home search and will then receive automatic email updates as soon as a new Ridgeview home goes on the market. Reilly Realtors also recently released a Ridgeview home search video on YouTube to provide even more information about Ridgeview. The short yet informative video is a great resource for clients who are looking for a quick guide to the area and how to search for Ridgeview homes on Reilly Realtors' website.
Michael Reilly, managing broker of Reilly Realtors, explains "As with all of our Austin communities, our goal is to help those searching for Ridgeview homes have an enjoyable and informative experience. Therefore, we've collected the most accurate and useful data about the area and created the most user-friendly Ridgeview home search available."
About Reilly Realtors, LLC
Reilly Realtors, LLC was formed in 2006 by Michael and Shae Reilly, and focuses primarily on residential home sales in Austin and surrounding areas. The brokerage is made up of 30 top producing agents with an average of 5 years experience. Reilly REALTORS operates the extremely popular website, AustinHomeListings.com, which allows the public to virtually search home sales in Austin with easy-to-use maps connected to data from the Austin MLS. For more information about Reilly Realtors, call 512-600-1800.