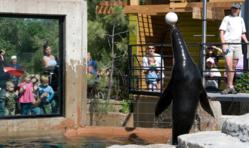 From a brand new Wildlife Show to special up-close animal encounters, guests will experience the ever-changing world of Denver Zoo and create memories to last a lifetime.
Denver, CO (PRWEB) May 22, 2013
Memorial Day Weekend kicks off an exciting summer season at Denver Zoo including special activities, shows and demonstrations. From a brand new Wildlife Show to special up-close animal encounters, guests will experience the ever-changing world of Denver Zoo and create memories to last a lifetime.
The start of the summer season will highlight the launch of a new program at Denver Zoo, Animal Adventures, featuring private animal encounters. For an added cost, guests will be able to get a special meet and greet with either an African penguin or a black rhino. More information will be available on Denver Zoo's website, http://www.denverzoo.org, on May 29 and registration will be open June 9. Guests must register in advance.
A brand new Wildlife Show will encourage guests to connect with animals at the zoo, their pets at home and animals they observe in nature. Guests can pick up an "Animal Buddy" card after each performance and are encouraged to take photos with it to share in the zoo's blog, Facebook page and other publications. Guests can also meet various stars of the Wildlife Show at the zoo's daily "Meet the Animal Stars" event or get up-close, interactive experiences with some smaller animals at "Wild Encounters".
In addition to the animal demonstrations held daily throughout the year, such as Africa's Greatest Predators, the Sea Lion Show and Toyota Elephant Passage demonstrations, the summer show season will also feature special feeding opportunities, including the pelican feeding at Monkey Island and the red river hog feeding in the exhibit at Primate Panorama. Lorikeet Adventure will be open daily, as weather allows, from 10 a.m. – 4 p.m. with nectar sales closing at 3:30 p.m.
Kids are invited to pick up a free Goddard activity map at Predator Ridge and Toyota Elephant Passage. These maps share fun, interactive ideas for kids and parents to enjoy at the two exhibits.
Primate Panorama is also ready for summer. Newly added chalk walls are waiting for kids and kids-at-heart to share their artistic interpretation of their favorite zoo experience. Professional face painters will be on hand to bring their animal expressions to you. While the kids are enjoying the artistry, grown-ups can try the featured tastes at The Colorado Market Station, featuring local sausages and craft beer.
Denver Zoo concessions have several other special plans for the summer, including a new food truck at the Pioneer Train deck, featuring street tacos and select beer options, and food carts with old favorites like Dippin' Dots, cotton candy, lemonade and popcorn.
Guest interested in learning more about special activities and discounts during their visit are encouraged to text DZOO to 56512 when they get to the zoo. Participants will receive notice of animal encounters, activities and deals that pop up during the day. Message and data rates may apply and guests can reply STOP to cancel at any time.
With the successful opening of Toyota Elephant Passage last summer, Denver Zoo is on top of many must-do lists and guests should plan extra time to find parking and purchase tickets. Denver Zoo, recognized with Top Honors in the Green Zoo category by the Association of Zoos and Aquariums, encourages earth-friendly transportation including carpooling, riding RTD, pedaling a B-cycle or personal bicycle, or walking to the zoo.
About Denver Zoo:
Denver Zoo is home to 3,800 animals representing more than 650 species and is accredited by the Association of Zoos and Aquariums (AZA). AZA accreditation assures the highest standards of animal care.
A leader in environmental action, Denver Zoo is dedicated to ensuring the safety of the environment in support of all species and is the first U.S. zoo to receive ISO 14001 certification for the entire facility and operations. This international certification ensures the zoo is attaining the highest environmental standards.
Since 1996, Denver Zoo has participated in 594 conservation projects in 62 countries on all seven continents. In 2012 alone, Denver Zoo participated in 98 projects in 18 countries and more than $1 million in funds was spent by the zoo in support of animal conservation in the field.