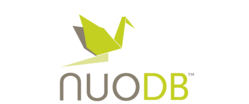 Seth joined NuoDB right at the start of commercial development, drawn to the idea of building a powerful Cloud Data Management System focused on being agile and delightful to end users," stated Barry Morris, CEO and Co-Founder, NuoDB
Cambridge, Massachusetts (PRWEB) May 23, 2013
NuoDB, Inc., the pioneer in Cloud Data Management Systems (CDMS), announced today the appointment of Seth Proctor as its Chief Technology Officer. As the company's fourth employee, Seth was the founding member of the NuoDB engineering team and architected the administrative and management layers of the NuoDB CDMS. He has worked closely with NuoDB Co-Founders Barry Morris and Jim Starkey since 2010 to bring the NuoDB Starlings Release to general availability in January 2013. Since commercial availability, Proctor has led numerous strategic initiatives for the company.
Seth's technical contributions
Seth has 15+ years of experience in the research, design and implementation of scalable systems. That experience includes work on networks, languages, operating systems, security, databases, and distributed environments; all of which are integral to the NuoDB product.
Prior to NuoDB, Seth worked at Nokia on its internal private cloud architecture. Before that he was at Sun Microsystems working in the research labs and collaborating with product groups and universities. His previous work includes contributions to the Java security framework, the Solaris operating system and several open source projects, in addition to the design of new distributed security and resource management systems. Seth has developed new ways of looking at distributed transactions, caching, resource management and profiling in his efforts such as Project Darkstar. Darkstar was a key effort at Sun which provided greater insights into how distributed databases can scale effectively.
Numerous patented innovations
Seth holds numerous patents for his cutting edge work across several technical disciplines. See below for a complete list.
Seth also has five patents presently awaiting approval at the US Patent and Trademarks Office for applications related to database security, scheduling and resource-management in the NuoDB system. Four of the applications relate to achieving greater database efficiency, while a fifth involves innovations related to end-user agility in NuoDB decentralized database deployments.
Supporting quotes
"Since the company's founding, we have been leading the NewSQL field with groundbreaking innovations in NextGen distributed ACID database technology," stated Proctor. "We already have a firm head start with Jim Starkey's patent for the overall NuoDB system. I look forward to continuing to work with Jim in his retirement role as a NuoDB adviser, and with our very talented team to continue to raise the bar in database innovation in the months and years to come."
"Seth joined NuoDB right at the start of commercial development, drawn to the idea of building a powerful Cloud Data Management System focused on being agile and delightful to end users," stated Barry Morris, CEO and Co-Founder, NuoDB, Inc. "I am thrilled to have Seth's proven technical abilities, innovative mind and passion for technology as part of the NuoDB leadership team."
About the NuoDB Starlings release
The NuoDB Starlings cloud database features elastic scalability with high performance, SQL compliance and guaranteed ACID transactions. The release, first made generally available on January 15, 2013, eliminates the need for the complex database workarounds like clustering, performance tuning and sharding that are typically associated with bringing applications to the cloud.
About NuoDB
NuoDB, Inc., is a Cambridge, MA-based technology leader that provides the industry's patented, elastically scalable Cloud Data Management System (CDMS). Unlike every other database, NuoDB is architected to scale out effortlessly on the cloud without compromising any of the features or guarantees of relational databases.
NuoDB customers include automotive after-market giant AutoZone, NorthPoint Solutions and other innovative companies.
NuoDB was launched in 2010 by industry-renowned database architect Jim Starkey and accomplished software CEO Barry Morris. http://www.nuodb.com
Patents held by Seth Proctor:
Patent 8,291,474 - Using opaque groups in a federated identity management environment
Patent 8,286,173 - Methods and apparatus for window-based fair priority scheduling
Patent 8,276,143 - Dynamic scheduling of application tasks in a distributed task based system
Patent 8,250,579 - Method for stage-based cost analysis for task scheduling
Patent 8,250,526 - Method for analyzing an XACML policy
Patent 7,073,191 - Streaming a single media track to multiple clients
Patent 7,051,337 - Method and apparatus for polling multiple sockets with a single thread and handling events received at the sockets with a pool of threads
Patent 6,857,130 - Resynchronizing media during streaming.