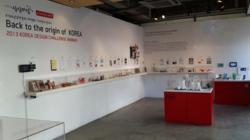 The collaboration not only creates something different, it spotlights Korea to the world as a source for products that are fun and witty
New York, New York (PRWEB) May 22, 2013
Kikkerland Design, a New York based design company and KT&G Sangsang Madang, a Seoul design academy and art space, have partnered to host a student design contest. The collaboration will result in the production and marketing of the winning designs to over 26 countries. The top 2 designs will not only have their designs produced, but they will receive a trip to New York City for the 2014 International Contemporary Design Fair where their work will be displayed.
The object of the contest was to design a product for Kikkerland with something from the Korean heritage. Kikkerland is always looking for good products that speak to you and tell a story. Sangsang Madang was created to promote Korean design. The collaboration not only creates something different, it spotlights Korea to the world as a source for products that are fun and witty, at the same time giving these objects meaning that goes back generations.
Sangsang Madang announced the contest in early March 2013 and over 600 entries were submitted. The president of Kikkerland Design, Mr. Jan van der Lande and Kikkerland's head industrial designer Jaeyu Lee narrowed the entries to 33 finalists. The finalists are currently being presented in an exhibition at the KT&G Sangsang Madang Art Center in Seoul.
The public has been invited to vote on their favorite designs in both English and Korean.
Six designs will be chosen for licensing and production. The designers will also be part of the full design process from beginning to end.
On May 31st in Seoul, Kikkerland's president Jan van der Lande will give a lecture about his 21 years of experience in the design business and present certificates of Design Excellence to 6 winners, 2 of which will be the winners for top design.
Kikkerland Design was founded in New York City in 1992. Their fun and innovative designs can be found in specialty shops and museum stores around the world.