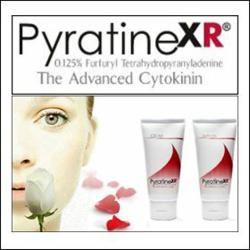 "It was shocking how quickly PyratineXR® managed the burn. This is truly an amazing product; it made a believer out of me," said Susie Byleckie, a Sacramento-based esthetician and wellness practitioner
(PRWEB) May 22, 2013
Pyratine®LLC, the makers of the widely acclaimed line of skin care for rosacea, aging skin and hyperpigmentation, has received additional praise for their PyratineXR® Intensive Anti-Redness & Healing Ointment. The physician-grade ointment has caught on with users around the world for its ability to treat red spots on skin and to accelerate the healing process of burns with its anti-inflammatory properties.
PyratineXR® is specifically designed to treat intense red spots and accelerate the healing process. The anti-aging and anti-inflammatory effects of the ointment come from natural oils like Oli-C (olive-based and used for skin conditioning), Abyssine Oil (contains antioxidants and vitamins), and Cocos Nucifera Oil (maintains moisture). These rich and healthful ingredients are highly effective at reducing redness and infusing moisture into the skin.
Susie Byleckie, a Sacramento-based esthetician and wellness practitioner, recently used PyratineXR® to heal a large steam burn she suffered: "It was shocking how quickly PyratineXR® managed the burn. This is truly an amazing product; it made a believer out of me." Her experience has made her only the latest of many skincare professionals to recommend this innovate product.
Stories like Susie's have become commonplace throughout the country, as more people turn to the popular ointment for treatment of burns, acne rosacea symptoms and other skin maladies. In addition to its powerful anti-inflammatory properties, people seek out the ointment for its anti-redness and anti-aging capabilities.
The ointment is formulated to help the active ingredients penetrate the skin better and faster. This quality makes PyratineXR® Intensive Anti-Redness & Healing Ointment ideal for treating burns and redness from invasive procedures, like dermabrasions and post laser treatments. Clinical trials have proven that PyratineXR® reduces redness by 42% by day 14 and up to 67% by week 12 of continued use.
As a leading supplier of skin treatment products, Pyratine®LLC is proud of the positive feedback received from their latest product introduction, PyratineXR® Anti-Redness and Healing Ointment. PyratineXR®ointment joins PyratineXR® Crème, PyratineXR® Lotion, and PyratineXR® Cleanser products as some of the most promising and effective treatment options for rosacea on the market today. Pyratine®LLC recommends that sufferers of rosacea symptoms, burns, or other skin issues contact them today to begin the process towards skin care relief.
About Pyratine:
Pyratine®LLC is a clinically proven line of powerful physician-strength crèmes, lotions, cleansers, and healing ointments dedicated to improving skin texture, eliminate redness and skin irritation. Additionally, Pyratine's products are designed to combat the negative effects of rosacea, aging skin, and hyperpigmentation. PyratineXR® and other products can be easily ordered within the United States and Canada, with international options available. For more information, visit http://www.pyratine.com/ or follow the on Facebook or Twitter.